How To Stack A Three-Tier Cake Perfectly

8 Jan 2011
Have you decided to create your own wedding cake to save yourself from an elaborate expense and yet get a perfect cake? Promised your best friend that you will make  wedding cake for her? Here are some tips on how to stack a three-tier cake perfectly.
Assembling a three tier cake is not as tricky as you think it is. There are a few important points to remember while stacking your tiered cake. Be assured that you will be saved of the embarrassment of your cake collapsing at the party or celebration.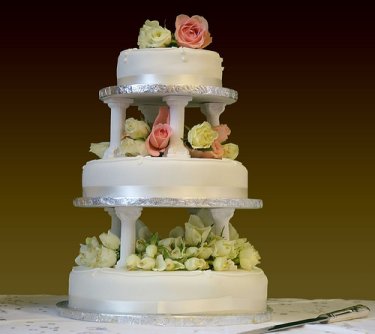 Here is how you should assemble a three tier wedding cake:
Pillars or not. Before you start assembling the cake, decide how you want it. You can stack the three tiers on top of each other, or you can use pillars to separate each tier, giving space between each layer and adding height to your cake. Once you have decided how you want to assemble you're three tier cake, you have already done 1/4 the task.
Supplies. If you have decided on using pillars to stack the tiers, you will have to visit the craft store or the wedding supply section of a supermarket to find the correct pillars that will help you build a sturdy cake. Don't go for very long pillars and stick to the short ones. If you can not find pillars, you could get a similar effect by using a cake stand. Also buy cake boards to place under your cake tiers. You will need a steady and thick board (made of wood) to hold your tiered wedding cake and allow moving the cake to the reception room. Once you have got all the required supplies, you're ready to rumble!
Bake and make. your individual cakes. Follow the recipe. It is always a good idea to bake a trial cake before you get down to the real business. Cool your cakes sufficiently before you ice them. You could use various icings or cake toppings like fondant, marzipan. Place the cakes on the cake boards and cover the cardboard with icing as well. Make markings for the dowels and pillars. You don't want to make a mistake while stacking the cakes. Complete icing and decorating each layer and store each cake in the fridge. Freezing your cakes for half an hour or more before you take it to the assembly place will prevent your icing from getting marred while stacking.
Assembly. It is always better to assemble at the location before the reception. It's not easy to transfer an assembled tiered cake. To assemble, insert the dowels and pillars as marked on each tier, starting with the bottom layer. Use at least 4 dowels and pillars on the base, to give you a more steady cake. If you are stacking without pillars. Use a bit of icing to stick your tiers and also insert a dowel through the center to give stability.
Finishing –While most of the decoration can be completed before assembling, you may want to save the more elaborate decoration for after assembly. Carry some extra frosting, fondant etc. to cover dowel ends and for last minute touch ups after stacking your three tier cake.
If you have never stacked a cake and are stacking a three tier cake for the first time, I would advise you to do a trial run. Practice makes one perfect!
Image Courtesy - foodandsoul.com
How To Stack A Three-Tier Cake Perfectly