How To Hand Paint A Cake And Impress Everyone
5 Jan 2011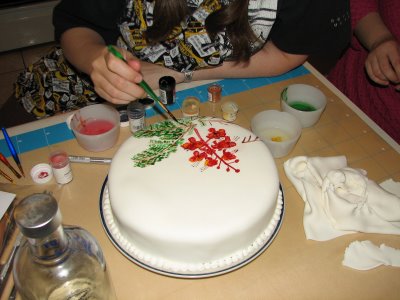 Hand painting a cake may not be that difficult, especially when you are good at painting pictures. Even otherwise, you can try with simple pictures and less number of colors to gain experience in this project. Go through the following steps to make your project successful and to impress everyone in  your family.
Tips to Hand Paint a Cake
Step 1
To hand paint a cake, first of all, you have to gather the ingredients. Other than buying the essential ingredients for baking the cake, you should buy stuff like food colors, edible glitters, paint brush and confectioner's sugar. Before you go and buy these, decide on the picture, so that you know what are the colors that you need to buy for painting the cake. For a beginner, it will be better to choose a simple picture or design consisting of 3-4 colors for hand painting a cake. Once you become an expert, you can play with colors.
Step 2
The next step would be to prepare the cake. So, bake a cake according to your choice. You can also buy a plain cake from the bakery for painting to cut short the time and process. But, a homemade cake has a different flavor than a store-bought one. You family will also feel greatly loved and happy when you do the baking as well as decorating of the cake, on your own.
Step 3
Before you start hand painting a cake, you will require a white base on the cake. For that, you have to frost the cake with a thin layer of sugary paste. Prepare this paste by whisking confectioner's sugar, butter and a little bit of water. For better result, you can use the readymade version of this paste. Before you hand paint a cake, spread the paste uniformly over the cake and let it settle down.
Step 4
Now you can go for hand painting the cake, unless you want to do something more delicate. In that case, you can use another layer of royal icing on top. Using the royal icing you can prepare 3 dimensional artworks on the cake and then can do the painting.
Step 5
To hand paint a cake use clean paint brushes. Mix the food colors as per your requirement and start working on it by holding the brush lightly. Don't put extra pressure while hand painting a cake, as it might damage the frosty layer. You should use bright and vibrant colors to paint the cake, so that the design really dazzles ithrough. Use your creativity to enhance the effect. Finally sprinkle edible glitters to give a sparkling effect to your painting or design. The following video will make it even clearer to you:
Other Articles You May Like To Read
1. Food Coloring History The Color In Your Food
2. How To Bake A Cake A Love Affair
3. The Coolest Cake Decorating Ideas Tips
Image Courtesy: cakeandempire.blogspot  
How To Hand Paint A Cake And Impress Everyone