Learn How To Decorate With Nuts

22 Dec 2010
Nuts with the 'raring crunch', which make all tough nuts easy to crack, are awesome for decorative purposes. Especially for the Christmas season, you could learn how to decorate with nuts and have folks and friends in a wild scramble for the 'nutty' pursuit.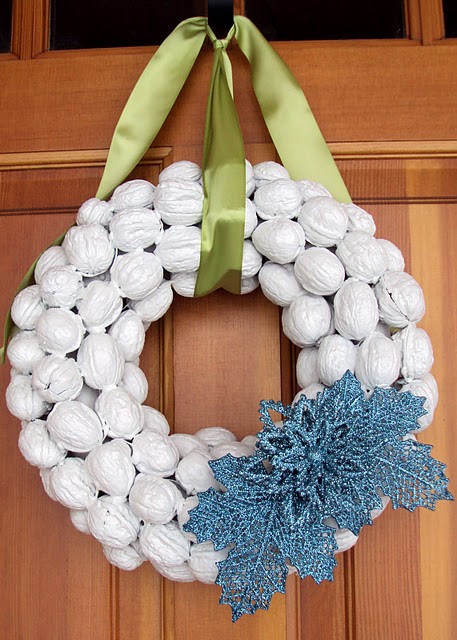 The very flavor of nuts lends them the visual appeal and some topping decoration with a bit of coloring and sparkles can make your nut the 'crowning glory of the occasion – (which can be theme related, or picturing the festive spirit as such or a personal preference). From walnuts, cashews to almonds and hazelnuts here is a "nut" full of ideas to crack open.  How to decorate with nuts to make the occasion a feast in all aspects?

•    Simple walnut flags: Walnuts simply nail it in, with their structure and sturdiness. Walnut flags as placeholders simply  beckon the guests to their table. Here, you take a walnut at a time and wedge a small knife or a  razor blade in the naturally occurring break in the walnut, and then, the paper flag with the guest's name simply 'snaps' shut in the walnut shell.

•    Gold walnut charms :  Decorating with nuts can be real fun with oodles of creativity just flowing out. And walnut, the charming nut pipes in yet again for the festive decorations. With thick gauge wire, pliers, hot glue and color spray (if you want to color the walnut shells), these walnut charms can be tied to the napkins alongside the guest's plate or as a string to wrap up a gift or a draw string for curtains with a pair of walnuts bobbing up and down.

•    Mason jars, votives and pecans : Here, you get to decorate with nuts by realizing your penchant for pecans. Be it votives( all lit with the 'nutty' glory) or mason jars (which would go well alongside a vase with fresh flowers) or as a token for your guests with a small-plate packed and sealed with pecans,  atop their dinner plate(enrobed in satin napkins), pecans can indeed be a fruitful way to decorate with nuts.

•    Nuts and kumquats in a compote :  Add the golden touch to your dining experience by making the classic French compote for dessert. The ideal wedding between nuts and kumquats (small fruit-bearing flowering plants) can be witnessed where the dessert is decorated with nuts such as almonds, raisins and the kumquat tree branches used for decorations(the dessert bowl, or the chandeliers or along the wall).

•    Blue and green fruit tree :  Your towering Christmas tree can be made ornate with colorful fruits, or sparkling bells or even be decorated with nuts (to make it more thematic as nuts are edible seeds and you get to eat the seed of richness and feast your eyes on the same on the festive occasion of Christmas). You could ideate with creativity on how to give the royal appeal while decorating the tree with nuts.

•    Pillar candles nestled in nuts :  Pillar candles behold that aesthetic appeal and combine it with citrus slices and nuts you have an embellished centerpiece as the center of attraction in the dining hall. Slices of oranges, lime and lemon are dried in the oven by placing them on a cookie sheet. Once dried, the slices are threaded through to form a band around the base of each candle. While threading the slices, you leave gaps in between for nuts with (painted shells) to squeeze in Once the bands are ready, berried branches are weaved through the candles arrangement to give that ultimate effect. This is one creative way to decorate with nuts.

•    Walnut wreath painted white : This might sound fanciful but in a fleet of fancy the result might just sweep you off your feet. With dozens of walnuts , glued to each other and the wreath, which is then painted white with an ornament festively colored for the Christmas season, walnut wreath gives the finishing touch on how to decorate with nuts.
Fruits and nuts and festivals- there is more to these edibles when explored, how they render the aesthetics of the festivities and; our ideas on how to decorate with nuts simply unravel that!
Photo Courtesy :bluecricketdesign.net
Learn How To Decorate With Nuts