Square Watermelons!
Inventive Japanese farmers use cubes of translucent plastic to grow watermelons to better fit inside refrigerators.
Farmers in the southern Japanese town of Zentsuji have figured out how to grow their watermelons so they turn out square.
It's not a fad. The technique actually has practical applications. "The reason they're doing this in Japan is because of lack of space.  A fat, round watermelon can take up a lot of room in a refrigerator, and the usually round fruit often sits awkwardly on refrigerator shelves.
This is really, really easy to do. (Note: you may be able to use this technique to grow other stuff in the form of a square ( actually in the form of a cube) and apply the general idea to other shapes.)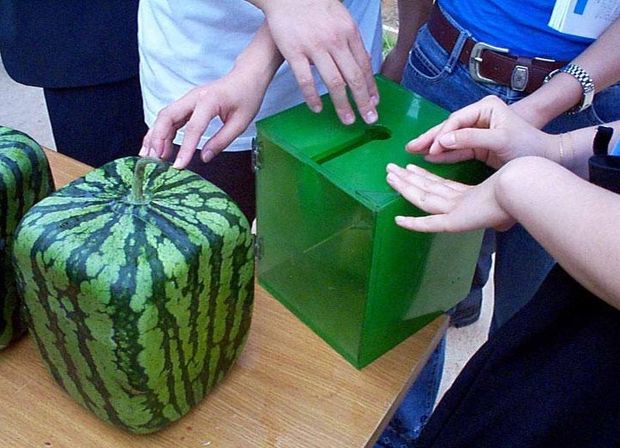 step by step instructions:But clever Japanese farmers have solved this dilemma by forcing their watermelons to grow into a square shape. Farmers insert the melons into square, tempered glass cases while the fruit is still growing on the vine. Simple instructions to grow your own:http://www.instructables.com/id/Grow-a-square-watermelon/
The square boxes are the exact dimensions of Japanese refrigerators, allowing full-grown watermelons to fit conveniently and precisely onto refrigerator shelves.
But cubic fruit comes with a caveat: Each square watermelon costs 10,000 yen, the equivalent of about $82. Regular watermelons in Japan cost from $15 to $25 each.
US growers grow round, seedless melons in various sizes so they'll fit into a refrigerator."
More on this Mickey Pumpkin
http://www.inhabitat.com/2007/07/26/mickey-mouse-sustainable-farming/
Square Watermelons!