Best 5 Gingerbread House Icing Ideas

7 Dec 2010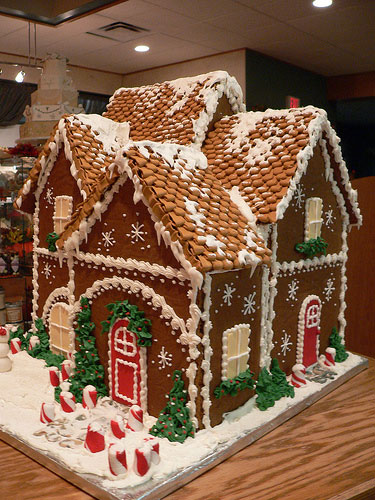 Well, it is that time of the year again! The gingerbread house day is almost upon us and we do need to contemplate on the best 5 gingerbread house icing ideas at least in order to make it worthwhile for your kids. While creating exactly the right kind of dwelling on gingerbread house day becomes imperative, much of it is fun despite a lot of planning and hard work. However, the real fun begins once the actual baking of the house is complete. Decorations begin in earnest and you can hope to experience hours and hours of merriment as you toy with the best 5 gingerbread house icing ideas on the d-day itself.
Chalking out a concrete plan is definitely in order even before you go out and buy all the stuff that you would want to adorn your little abode on gingerbread house day. However, it is the glue like icing that is required primarily. Beating a couple of egg whites with cream of tartar and powdered sugar will help you to hold the assorted candies and bits and pieces of adornments. The thick icing can also be softened with water as you get set to unleash your creativity on gingerbread house day.
Gum paste, marzipan and fondant can also be utilized as clay that is capable of holding the gum drops and Popsicle sticks together. Right! So you have the basics in place now. It is time to go over strategies and try to find out at least the best 5 gingerbread house icing ideas if not more.
Window Icing - Does your gingerbread house have a lot of windows that you would like to dress? Getting down to it is necessary on gingerbread house day and you can enjoy yourself to your heart's content by creating tiny shutters with the icing sugar while various cookies and sticks can make up the flower box on your tiny gingerbread window sill. Gelatin sticks can be ideal for giving a translucent effect to your windows too.
Roof - The rooftop is what attracts attention on gingerbread house day and the task of decorating it  properly is not too difficult either. Creating shingles or tiles with the aid of colored jelly beans, candies and skittles will definitely enable you to be an attention grabber on gingerbread house day as well.
Water Bodies - Do you yearn for a pool in your gingerbread house? It is not too difficult to make one, not when you can have sprinkles, gum drops and jello all in the color 'blue'. Adding blue colored icing sugar to create ponds, lakes and flowing brooks within your gingerbread castle will help you to play even as you work hard on gingerbread house day.
Image Courtesy: gingerbread-house-heaven.com 
Best 5 Gingerbread House Icing Ideas