Best 5 Ideas For Decorating Sugar Cookies For A Cookie Day Cookie Swap Party

6 Dec 2010
Cookies, an all-time favorite, and here is a cookie day cookie swap party for which you have been invited to make the best ever cookie presentation. If you feel cramped for themes here are the best 5 ideas for decorating sugar cookies for a Cookie Day cookie swap party.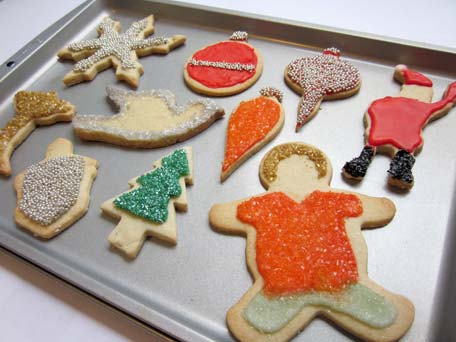 With cookie-cutters and your very own artistic streak you could give your cookies the shape of your dreams. The festive spirit very much in tune with Christmas, some decorating ideas for sugar cookies for cookie swap party can ring with the merry tune of Christmas as well.

Here are the best 5 ideas for decorating sugar cookies for a Cookie day cookie swap party.

•    Stacked tree sugar cookies:  Something about the festive season especially in December which sets a prelude for Christmas be it cookie day celebration or a cookie swap party, the effect permeates with 'X-mas' starring the occasion. That's what stacked tree sugar cookies are all about. Your basic sugar cookie dough should be rolled out about 1/8 inches thick; then with a cookie- cutter, star-shapes of varying sizes with the right gradient (between the sizes) are cut out, and then baked. The icing to be used is tinted with green food coloring, which is then applied to the stars around the edges first and then filled inside. The star-shaped cookies, once dry are stacked on top of one another, according to the size; the tree is ready, giving an effect of the 'festival-tree' for the month of December and also as one of the best 5 ideas for decorating sugar cookies for Cookie day cookie swap party.

•    Candy canes: Candy canes for cookies couldn't be more yummylicious and that too with the pepper-mint flavor…the kiddo guests at your cookie day swap party couldn't have entreated themselves for a better bet. With your basic sugar dough recipe, the vanilla extract is reduced by half and replaced by one spoon of peppermint extract. Once the dough is ready, half of it is removed and red food coloring gel is added and mixed thoroughly. The dough (both red and white) are made into discs , wrapped up in waxed foil and then chilled for a couple of hours. Once sufficiently chilled, the discs are rolled into six inch long ropes and twined around one another and baked, one of the best 5 ideas for decorating sugar cookies.

•    Snow flakes sugar cookies: The winter, snow and cookies… Is there a better way to warm up for celebrating cookie day cookie swap party? When you feel frostbitten for ideas for decorating sugar cookies, try a snowflake sugar cookie which works very simple with the basic sugar cookie dough. The sugar cookie dough is rolled out 1/8 inches thick and with a cookie cutter; the shapes of snowflakes are cut out and baked. Once the baked cookies are cooled, the frosting to be used is tinted with food coloring gel (sky-blue or lighter than that). Along the edges of the snowflake cookie, the frosting is applied with the necessary design work inside, and allowed to dry, and believe it or not you will have these cookies swapping the chill wintry evening for their warmth!

•  Peppermint pinwheels: Your sugar cookie dough (with half-a teaspoon of vanilla extract replaced by peppermint extract) is divided into two portions- one for the red coloring and other for the green food coloring. Both the dough are properly mixed with the food coloring, flattened into discs, wrapped in a waxed foil and then refrigerated. Once chilled till firm, discs are made into rectangles (1/4th  inch thick). The green rectangle is placed atop the red and made into a log. From this log, cookies of ½ inch thickness are sliced and then baked. This idea is ideal for a cookie day cookie swap party especially giving more way for indulging in a freewheeling chat with other guests.

•    Ginger bread man:  Who doesn't love the ginger bread man-the iconic symbol of bakes, with the same applied to the shape of your cookies? The basic procedure remains the same, working with the sugar cookie dough and then using a cutter to bring out ginger bread man shaped cookies, adding a bit of frosting along the edges and the features of the figure and lo! Your ginger bread man sugar cookie is ready to be crunched as one of the best 5 ideas for decorating sugar cookies for Cookie day cookie swap party!


 For more on the above ideas ->

When there is a moment to celebrate you love to get together, share the festive occasion , exchange just like in a Cookie Day cookie swap party and our best 5 ideas for decorating sugar cookies, adds topping sweetness to the entire celebration.
Photo Courtesy :kitchendaily.com,
Best 5 Ideas For Decorating Sugar Cookies For A Cookie Day Cookie Swap Party