Lets Go For Some Traditional Seasoning Mixes From Greece!

2 Dec 2010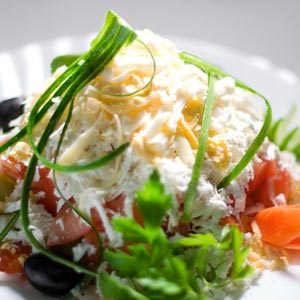 This is my first blog post and I try to write some instructions on Greek seasoning, as I like them a lot. They always have some flavor of holidays and staying abroad and are thus, refreshing.
The traditional meals of Greece can be determined with the herbs and spices that are used to add the distinctive flavors that every meal have. Although similar to other Mediterranean cuisine, Greek seasonings are combined to accentuate the flavor that are naturally evident in the food. Greek foods are not spicy, in contrary to other Mediterranean food preparations.
Salt and black pepper are the traditional base of Greek seasoning which is combined with other common herbs and spices including rosemary, thyme, cloves, and oregano. There are now commercially prepared Greek seasoning that are being sold in groceries. The ingredients usually vary depending on the brand or manufacturer of the seasoning. There are also variations of these spices that are made to suit the taste of the majority of the people consuming it.
This seasoning can be readily used for different kinds of Greek cuisine such as meat, seafood, poultry, and vegetable flavoring. It is also used directly to add flavor to Greek soups. Greek seasoning is also used in vegetable salads before tossing the ingredients together.
For those who would want to make their own Greek food, these seasonings can be found at the nearest grocery stores. However, there is also a way to make a homemade Greek seasoning at home by mixing together the different herbs and spices that can be brought separately. There are bottled dried spices that are being manufactured which are great for home cooking because of the prolonged shelf life of these condiments. This is a better option because these herbs and spices may be used in other food and cuisine.
These are the ingredients needed to make Greek seasoning. All these should be mixed together in a bowl and could be used generously on food as meat rubs, marinades, and stews. They even fir dishes like a Greek Pasta, which is in a pleasant way different from the Italin one. This recipe can make a mixture that can be used for several weeks or longer. It should be placed in an airtight container or bottle and stored at room temperature.
2 teaspoons salt
1 teaspoon ground pepper
1 teaspoon dried mint
2 teaspoons basil
2 teaspoons dried Greek oregano
1/2 teaspoon thyme
2 teaspoons garlic powder
1 teaspoon dill
1 teaspoon marjoram
1 teaspoon dried parsley flakes
1 teaspoon rosemary
1/2 teaspoon ground cinnamon
1/2 teaspoon ground nutmeg

 
Lets Go For Some Traditional Seasoning Mixes From Greece!