Cake Decorations for Baby Shower
11 Nov 2010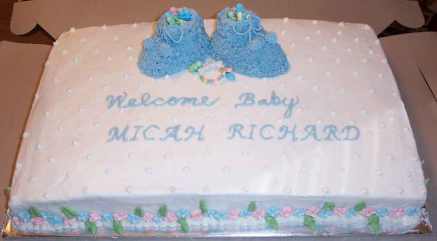 Baby showers are arranged right before an upcoming child birth. And this party is incomplete without a cake. And cake decorations for baby shower must be unique and appropriate. If the place and the food for the baby shower are given much thought, the party turns out to be memorable for many years to come. It is not only important to decorate the cake properly but it must also be theme decorated.
Materials including cream, marzipans, chocolate, candies and sugar can be used to decorate the cake. While choosing the material for cake decoration you are required to pay attention towards the purpose: honoring a pregnant woman.  So, the cake as well as its decoration kits should not contain any preservatives or synthetic coloring. The intake of these preservatives can have a negative effect on the baby, so you must be very careful.
Since it is a baby shower cake, you must decorate it using some things that are associated with child birth. For instance, you could decorate the cake using an image of stork that is bringing a baby or the picture of newborn child or some rattles or toys that are linked with newborn children.
You can also decorate your cake based on the sex of the child. If a woman is expecting a girl, then you must decorate the cake in pink color and if she is expecting a boy, then it is better to decorate it with blue colors.
image credits : redbarnbakery.wordpress.com
Cake Decorations For Baby Shower