The Cake At The End Of All Cakes
10 Nov 2010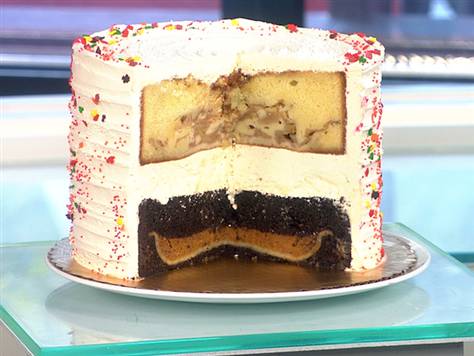 Pumpple – The new age cake! IT was recently reported that turducken (a turkey with chicken, and duck stuffing) has got a new dessert equivalent in Pumpple. Pumpple is nothing but "the cake at the end of all cakes". Pumpple is the new age hybrid cake in which apple pie, pumpkin pie, vanilla cake and chocolate cake, is supported by thick layer of butter cream icing. This cake was born at Flying Monkey Patisserieof Philadelphia. The bakers at Flying Monkey take little more than two days to bake this whopping 15 pound gurangutan dessert from scratch.
The elaborate Pumpple baking process is spread over two days.  First the Pumpkin pies are baked. Once half done they are dipped in the chocolate cake batter and further baked. Similarly the Apple pie is half baked and dipped in vanilla cake batter and further baked. This apple pie-vanilla cake is then baked on the top of chocolate cake. Then they are fused together with homemade butter cream icing. Pumpple measures little over than 1 foot and spends much of its time in oven due to its massive size.
The owner of Flying Monkey, Elizabeth Halen says that "We only opened about a month ago and started making the pumpple cake a week later," and owing to the demand they are preparing it on daily basis.
Why must you try it?
Name: It strikes you right at the head
Beauty  and Unusual size : crowd pullers
One cake: Is enough to feed the whole family and a gathering of 30-40 people
One slice of cake: Feeds four
Chocolate cake: Its moistness and richness amazes you
Pie Spices: The pumpple lovers swear by it!
What might turn you off?
One slice of cake: Packs 1800 calories
Entire cake: Packs 18000 calories
One slice of cake : costs $8
Vanilla cake: Dry and crumbly
Whole cake: costs $75
Apple pie: Very Less
72 hours: Cake reaches your table within this time
Frosting: Too much , which kills the joy
Chocolate and Pumpkin cake: Start offering it by itself
The Flying Monkey plans to change the pies through seasons like peach pie for summer, etc. Thus pumpkin pie haters stand a chance to dig into something interesting.  If you are hesitant to shell out $75 at one go then enjoy a miniature version – Pumpplet at afairly cheaper price. 
Image courtesy: greenaislegrocery.files.wordpress 
The Cake At The End Of All Cakes