Autumn Yard Decorations
1 Nov 2010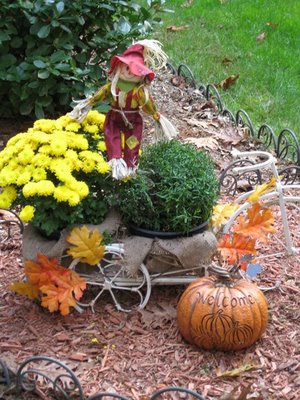 When the weather is cool and crisp and you have brilliant foliage too, you also have endless inspiration for autumn yard decorations additionally. Yard decorations can be done using pumpkins, collected leaves, seasonal gourds and homemade craft items.
Materials
If you want to make interesting autumn yard decorations you should have necessary materials including craft wire, gourds, harvest wheat stalks and pumpkins. Other optional materials that can be used for decoration include cardboard, markers and garden stakes.
Methods
If you want to make a sparkly winter display you should wrap wheat stalks using white tree lights. Use a sharp knife to carve funny shapes, faces and messages onto the pumpkins. Use craft wire to make circles and stick the autumn leaves to these wire circles using hot glue.  
Harvest Display
Lay out some hay bales in your yard so as to create a festive space. Display the harvest wheat stalks on both sides of the hay bales. Put decorated gourds and pumpkins over the bales. This has to be done throughout the display. To complete the look, hang leaf wreaths either from the trees or on the front door.
image credits: ebogie.blogspot.com
Autumn Yard Decorations