How To Make A Chocolate Bunny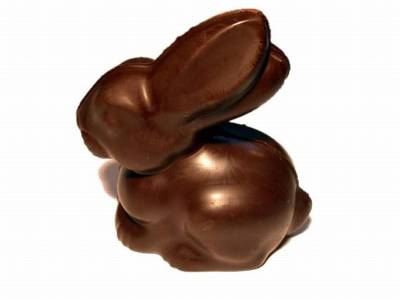 You can easily make chocolate bunny at home. Every year I used to purchase readymade chocolate bunnies from market to decorate my cousin's Easter baskets, but this year I went against the routine and made the bunnies at home itself.   I ensure that with little effort you can easily prepare customized chocolate bunnies to decorate your Easter baskets.
Ingredients
Bunny Molds
Cake decorating tubes or tips
Chocolate chips, or candy melts
Microwave oven
Spoon
Glass or plastic cup used for measuring liquids 
Making Chocolate Bunny
Before you begin with bunny preparation, you need to choose right kind of bunny mold. Most of the craft stores stock plastic and ceramic built bunny molds. You can easilychoose an open end or close end mold as per your choice.
You can also buy the chocolate chips from the same store from which you have purchased molds. Generally white, dark and milk chocolates are used to prepare bunnies. Pick your own chocolate chips and enjoy the bunny making fun.  
Put the chocolate chip or candy melt in a glass or plastic cup and microwave it for your 30 seconds.  Microwave ovens vary from brand to brand, so you need to watch them closely. Stir the melted chocolate after 30 seconds. Continue stirring or melting till the chocolate attains pourable consistency.
If you are melting the chocolate over stove, then resort to double boiler method. Boil a pot of water, and place a pot of chocolate chips or candy melts over the pot or lower the pot containing this chocolate chips or candy melts into the boiled water pot. And continuously stir till the chocolate attains pourable consistency.
You can also add cereal to the chocolate mix if you wish to create crunchy filled chocolate bunny.
Once the chocolate melt is ready, pour it in the bunny mold. Lightly shake the mold, so that chocolate will settle in the mold without bubbles.  If you are using open end bunny mold, then pour the melted chocolate inside the mold, and let it sit there for few time. Support the mold by holding it against the walls of refrigerator shelf. If you are using a closed end bunny mold, then pour the chocolate inside the mold and turn it upside down, so that chocolate coats the container properly. Refrigerate the mold for some time.  Use the freezer for setting the chocolate. Don't keep the chocolate in the mold for more than 5 minutes.
Check your bunny after 2 hours.  If you find that chocolate is solid after touching at the thickest part then it's a time to remove it from refrigerator.
Decorate the face, ears and moustache of the bunny using cake decorating tubes.
Wrap the bunnies in foil and store them in plastic containers.
Wow! The chocolate bunny is ready to enchant your guests.
So, make chocolate bunny at home and adorn your Easter Basket. 
Image courtesy: thejasonbrownblog.wordpress.com 
How To Make A Chocolate Bunny