How to Make Clove Oranges – Decorate This Festive Season
9 Oct 2010
As a kid I enjoyed making clove orange pomander balls during the Christmas season. For me Christmas was always special due to the scents associated with them.  Be it Christmas pine, freshly baked cakes, homemade wines, homemade ginger bread or anything else, the scents of Christmas were always alluring and special.
There are many fun ways to decorate your home with festive scents.  You can prepare some scented candles at home or buy readymade ones from the market.  Also you can find lots of scented candles in the market that gel well with the theme of Christmas. And for a change why don't you try out preparing some unique scents (at home) this Christmas season. You can easily make clove orange pomander balls at home.
Christmas Orange Pomander Ball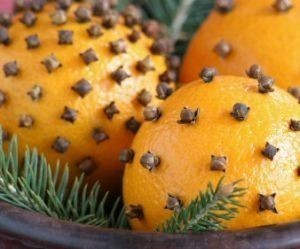 As a kid I remember making orange pomander balls by sticking cloves around oranges in not very straight lines, only to realize later that by the time I finished with it, the clove heads have nipped off. We kids used to prepare as many clove oranges as possible. We used to supply these oranges to our close relatives too. I used to keep my pomander balls for long time.
You can easily recreate this authentic Christmas scent in the following way. For preparing a pomander ball you need:
8 medium sized oranges (preferably thin skinned)

6 cups clove -whole

2 cups cinnamon powder

4 cups Orris Root powder

1 and half cup Allspice powder

1 cup grounded nutmeg

And a festive ribbon
Method of preparation
• Warm the oranges by rolling them between hands, so that the cloves can penetrate easily.  In case of thick oranges there are the chances that cloves may break off and you may end up wasting too much cloves.  In order to avoid this situation it is always better to poke holes on the surface of an orange using some sharp instruments. 
• Leave enough space between the cloves because when the oranges shrink the cloves will cluster together. You can easily arrange the cloves in dotted pattern or lattice pattern.  But I feel the better way is to arrange cloves on the face side or in lines.
• Blend all powders and roll the clove studded oranges over these powders, so that even the small spaces are filled. 
• Preserve these clove studded oranges in boxes lined with tissue papers. Store these boxes for 3-4 weeks at warm place. Once the oranges dry out, take them out and shake the excess powder. Now the pomander is ready for use.
• Tie them to the end of festive ribbons or decorate it on table. The shrugged off powder can be stored for future uses. 
 Image courtesy: ny-image3.etsy.com
How To Make Clove Oranges – Decorate This Festive Season