How To Present Salads To Your Guests - Get Creative
6 Oct 2010
Through this blog titled "how to present salads to your guests – get creative," I am going to give you some secret mantras on decorating your salad plate. This blog on "how to present salads to your guests – get creative" shows you how to display the fresh salad veggies in a beautiful way without making things complicated. Presenting salads creatively is easier than you ever thought it could be. But to know how, you have to read these secret steps …
Things needed
For making the salads, you will need ingredients like leaf spinach, different varieties of lettuce (like leaf lettuce, head lettuce, romaine lettuce etc), cabbage, tomatoes, cucumbers, carrots, onions, differently colored bell peppers (red, green and yellow), radishes, croutons, olive oil, shredded cheese of your choice, mayonnaise, sugar and vinegar. Apart from these, you will need salad bowls and plates of different sizes.
Steps for using creativity to present salads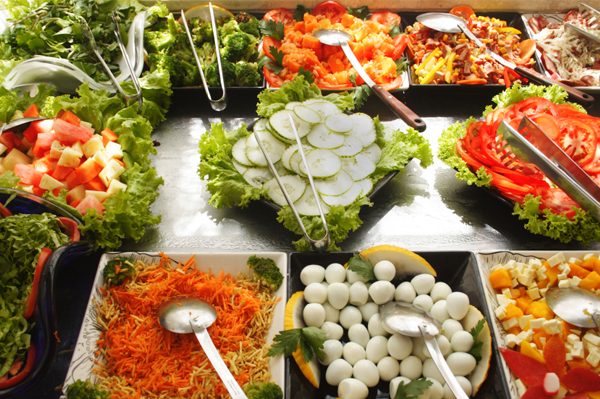 How to present salads to your guests - get creative step #I
Make a simple tomato-cucumber salad which just requires a sweet vinegar dressing. To make this salad, slice 3 cucumbers and 6 tomatoes in circles and mix the veggies in a mixing bowl. Then, add in half a cup of vinegar and a cup of sugar. Mix the ingredients well. Let the salad soak in the juices for 15 minutes.
How to present salads to your guests - get creative step #II
Clean and cut 3 differently colored peppers in strips and toss them to blend all the colored peppers. Now, garnish them over the fresh spinach leaves. Drizzle around the salad some olive oil and a handful of croutons.
How to present salads to your guests - get creative step #III
Now, cut the head lettuce, quarter 4 tomatoes, shave a pair of carrots, slice 5 radishes and 2 cucumbers and cut a red onion into circles. Mix all the veggies in a mixing bowl. Add a cup of croutons and a double cup of shredded cheese to the veggies. Then, add half a cup of sugar, a cup of mayonnaise and a quarter cup of vinegar to the salad. Next, toss the salad till each vegetable slice is well coated.
How to present salads to your guests - get creative step #IV
Now comes the presentation part of the salads. Begin by lining a moderately shallow dish with the romaine lettuce leaves. Next, line a row each of sliced cucumbers and tomatoes around the dish. In center, place the bowl containing the cucumber-tomato salad. At the top of the bowl at its center, place a large sized tomato that's cut into halves and deseeded. Now, take a solid colored long serving platter for the spinach salad. Outline the platter with cabbage leaves and place a few spinach leaves on the cabbage leaves. Make bowls out of three differently colored bell peppers and stuff in them the marinated spinach and pepper strips. Arrange the stuffed pepper bowls creatively around the salad platter. Finally, place the bowl of cheese and mayonnaise salad in the middle of the platter with some olive oil drizzled on it.
Picture Source: sheknows.com
How To Present Salads To Your Guests - Get Creative