How To Decorate A Dinner Party Table

4 Oct 2010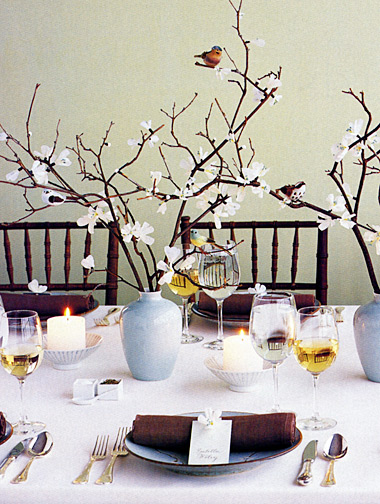 I was never very creative and when it would be something related to matters like decorating a dinner party table, I used to be in a complete mess. This is why I took a formal training on how to decorate a dinner party table. I learnt several tricks of decorating a party table for any business dinner or even for a home gathering. Here are some ideas on how to decorate a dinner party table – hope you find these very useful.
Choice of tablecloth, napkins, placemats – You have to choose the designs of all these things very carefully. They should not only match one another, but should also be as per the theme of your party. Suppose your tablecloth has flower motifs, you need to use solid color placements as well as napkins so that they are able to match the tablecloth well. It is best to use a white tablecloth because you will be able to be more creative with the color white.
Centerpiece – It is very important to create a very attractive centerpiece for any dinner party. The centerpiece shouldn't be so tall that your guests have a difficulty in finding out what it is. You can use a very simple flower basket or a bowl of fruits as a centerpiece which is just perfect for your dinner party. Your creativity can also be enhanced depending on the seasons and the holiday period. You can have greenery in your dinner centerpiece for winter period, you can have a watermelon for a summer dinner party or candles theme at any other time.
Setting the table: You should set the dinner table very neatly and slowly also. You should never rush through the process because you can mess things up in a hurry to do everything well. All the glasses, silverware and plates need to be clean and shining… so you need to ensure that your cutlery is clean at least 24 hours prior to the party. Your
entire silverware placement should be in order - as per the course which you will be serving. Salad forks need to be placed just on the left side while soup spoons should be on your right and quite far away from the plates. The dessert forks need to be placed close to the plates.
Place cards: You should buy place cards as per the theme of your dinner table. You can also create your own watercolor cards so that your own designer range can be created. If you feel that you can design your own cards, you can do it all by yourself.
Water: Do not forget to fill all the water glasses just before dinner is served. You can keep your ice box also within close reach so that your guests can reach it whenever they want. You can also keep the best pitcher on the table so that guests can refill water whenever they feel the need. You need to place the water glass just above the place where the knives have been placed.
Once done, your party dinner table is completely ready for your guests.
Image credits: cordialgirl.files.wordpress.com, s4.hubimg.com/
How To Decorate A Dinner Party Table