How To Use Dried Fruit In Place Of Fresh?

1 Oct 2010
Do you know how to use dried fruit in place of fresh when you suddenly realize that you have run out your stock of fresh fruits? This is one of the best ways to bring a change in your regular recipes making use of dried fruits. When you are choosing dried fruits in place of fresh fruits, you need to choose fruits which are not glazed or which do not have any kind of extra sugar added on them. If you visit some grocery stores, you will find a huge variety of dried fruits being sold. You just need to look for your favorite fresh fruit which is in its dried form. You just need to stock up such healthy fruits in containers so that you can use them in your recipes whenever you wish to.
Breakfast cereals – Suppose you have fresh strawberries everyday for your breakfast with cornflakes and you got completely bored with it. You can replace these fresh fruits with dried fruits in cereals – you will love the taste of cornflakes with such dried fruits. Moreover, it adds to the nutrition count also.
Cakes: Dried fruits are used in cakes in abundance because you can't use fresh fruits in cakes. Dried fruits add a new flavor to cake recipes. You can use dried apples, peaches, cherries, apricots, currants, walnuts and along with other ingredients in the making of cakes. Christmas fruit cake is one such popular cake which is made from dried fruits.
Cookies and bread: A huge variety of dried fruits are used in baking bread and cookies. We often have date walnut cookies, apricot cookies and strawberry cookies which all make use of such dried up cookies. You might have purchased specially flavored bread such as apple bread, pineapple bread and even peaches bread – these all have dried fruits mixed in their dough before baking, which gives them a great taste as well as flavor.
Dried fruit desserts – These are integral part of desserts in parties and gathering. You will love the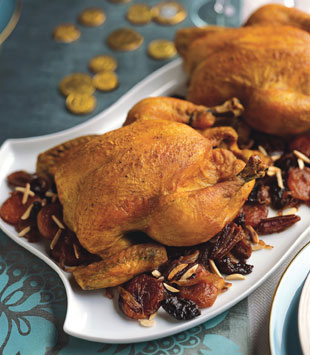 taste of pies which are made from dried fruits. Dried walnuts, apples, peaches and strawberries are often used as garnishing of several milk based dessert recipes. Harvest crumble is a very popular dessert which is made from dried apricots, chopped dried peaches, dried cranberries and cored, sliced apples which are also dried.
Pork roast with dried fruits – Can you believe that pork tastes wonderful when eaten with dried fruits ? Dried apricots and dried currants are used in this recipe which is used as a filling of the roasted pork. This is a great dish for Christmas parties and other festive occasions when your friends and families have gathered together.
Chicken with mixed fruits – This is a unique chicken roast recipe which uses dried fruits like cranberries, figs, peaches, oranges, apricots and cherries. The chicken is cooked in a saucepan with little margarine and fruits along with other ingredients. It is quite popular in Halloween and the days leading to Christmas and New Year celebrations.
Dried fruits add health and taste to dishes, one must know the ways of using them.
Image credits: sw5notebook.blogspot.com, bonappetit.com
How To Use Dried Fruit In Place Of Fresh?