How To Make Your Food Look Fancy?
After watching shows like Top Chef and Masterchef, I am sure that no one has any doubts regarding the
importance of making your food look fancy.
Now, how to make your food look fancy is another deal altogether. No, I am not saying it is a difficult task, but yes, it requires a little creativity, a zestful need to learn and a lot of planning and patience.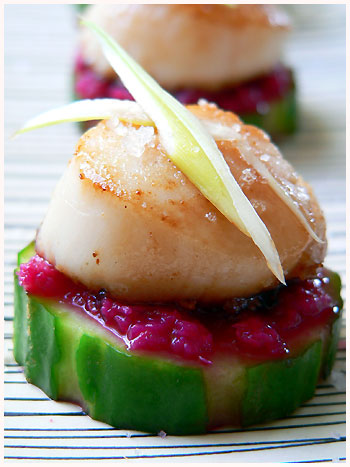 We all know that we eat with both our eyes and mouth. The visual appeal of the food you serve adds to the over all taste and smell of the food. This helps you to be the proud receiver of rave reviews and a chance to see the smiles of satisfaction on the faces of your guests or family even before they start the meal!! Making your food look fancy is not only an art form you will enjoy but also a trick to get your kids to eat more. Trust me a plain macaroni and cheese serving will get less warmth than a macaroni and cheese dish that has diced green, yellow, and red peppers or tomato flower and pineapple hearts. This way you make you food look both appealing and healthier!!! Here are a few pointers that will help you make your food look fancy:
 
The rule of Colors
 
In short, being colorful helps when it comes to food. Try and ensure that you plan your menu before cooking so that each ingredient and dish chosen adds more color to the dish and the table respectively. Green Vegetables like broccoli, Mashed potatoes, and roasted chicken breasts and Steamed Rice adds so many colors to the table!
 
Garnish it right  - art of food garnishing
 
You can also add color to your food by using colorful and fresh garnishes. A flower of parsley over the dish or chopped fresh herbs sprinkled on top are great additions. You can also add some dips like a salsa, chutney or relish to your spread or even pour it onto the dish itself. It is easy to do and you can use stuff easily available at home like Chocolate, Vegetables, Fruits and even nuts to garnish your dish. Just ensure that the garnish adds to the texture, color and taste of the dish or drink. The obvious rule would be using contradictory colors and textures. You can use cream or yogurt for soup, mint or coriander leaves; citrus peels, grated ginger, nuts or seeds for vegetable dishes:  Sauces, herbs or spices for meat and fresh fruits, dried fruits, whipped cream, various forms of chocolate, powdered sugar and edible flowers for desserts.
 
Its all about Plating
 
Plating is the process where the food is served elegantly and artistically on the plate. For a beginner you should focus on the colors, the flow of the food and patterns and lines and the balance of the composition. Its like painting on your plate and is not as difficult as you think.
 
The first rule would be to make small big. Use plates that have a small basin and a wide rim. Serve small portions that are neatly stacked or arranged in these plates and then garnish the food and if you are using sauce, drizzle it around the rim. Now doesn't that look pretty!
 
Color, size and types of plates, tablecloth and other dinnerware should also be chosen carefully.  For a party, try and use anything other than white ordinary plates. Lay out your best dinnerware. You can also use plates of different shapes like square plates. Try and use a plain tablecloth so that the table doesn't have a cluttered look and ensure that the contrast of colors are pleasing to the eye.
 
Serve your creativity!
 
Last and not the least, be creative when you layout your table, place individual servings and prepare your food.  
 
Image Credits
http://www.flickr.com/photos/28757974@N00/