How do u Make Strawberry Glaze?
12 Jul 2010
Making a strawberry glaze and adding a dash of it to your everyday cheesecake or fruity pie instantly turns them into divine and extraordinary dishes!!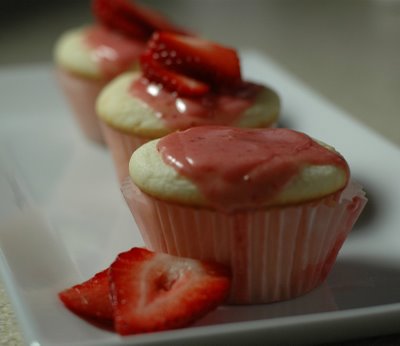 And what's more, the gorgeous red color and the dotted texture of the strawberry seeds instantly brighten up the whole appearance of the plain, dull-looking desserts. The sweet taste of the dessert finds its perfect match in the slight tang that the strawberry glaze offers and this combination is, in simple terms, just out of the world!
Ingredients:
To make strawberry glaze, you need only a few basic ingredients:
Fresh Strawberries - 6 cups; Sugar – 1 cup; Cornstarch – 3 tablespoons; Water – ¾ cup; Red food color – Few drops (optional)
Method:
Wash the strawberries well. Cap them well (that is, remove the green leafy portions).
Slice the strawberries into small pieces and keep them aside in a bowl.
Add 1/3 cup of sugar to these diced strawberries and mix slightly. Allow this to stand for about 90 minutes to 2 hours. This draws out the juice off the strawberries.
Drain the juice from the bowl. Add water to it so that you have about half a cup of liquid.
In a small pan, add cornstarch and the remaining sugar. Add the cup of strawberry liquid to this. Stir well so that a smooth mixture is formed. Ensure that this does not stick to the bottom of the pan and that no lumps are formed.
Now, add the food coloring, only if you feel like. This is totally an optional step.
Continue to cook and stir the mixture over medium heat for about 2 minutes. You will see that the mixture gradually thickens and the sauce starts to become clearer. Once, this stage is received, remove the pan from heat. Your strawberry glaze is ready.
Strawberries are commonly referred to as the "World's Happiest Fruit". There couldn't have been a better name that these soft, juicy, delicious fruits could get. The great taste that these fruits bring along with them not just makes your taste buds happy, their rich color simply brightens your mood up the moment you see them. And that's not all – they also make your health happy!!! Strawberries themselves are low on calorie (only about 6 kcal). They also act as great anti-oxidants and hence, are very good for your skin. At the same, strawberries are loaded with water (about 92% water by volume). This is precisely why they act as great weight controllers as well. Thus, the happiest fruit of the world brings loads of happiness along with them. And strawberry glaze, if not all, definitely brings some happiness along with it. So, why waste time? Just glaze it evenly over cakes, pies, crepes, etc and let yourself be lost in the world of great taste.
Photo Courtesy: labellacook.blogspot.com
How Do U Make Strawberry Glaze?