How to Assemble Shrimp en Brochette

7 Jul 2010
Does the name put you off? Well, it shouldn't. 'En brochette' only means 'on skewers'. This classic French preparation is easy to make and tastier to eat. Spare half an hour and learn how assemble shrimp en brochette.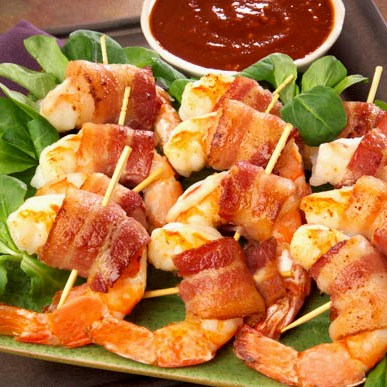 What You Need
2 lb. large shrimp
Monterey Jack cheese
3 fresh jalapeno peppers, seeded and julienned
1 lb. bacon
1 teaspoon Cajun seasoning
Skewers
Step 1: Preheat the grill, set it on high heat and soak the skewers in water.
Step 2: Peel, de-vein and butterfly the shrimp.
Step 3: Take the jalapeño, de-seed and julienne them. Place one strip of jalapeño at the center of each shrimp and wrap the shrimp cloed with the bacon.
Step 4: Thread the bacon-wrapped shrimp onto the skewers. Pierce the shrimp once through the head and once through the tail. You can fit 6 shrimp on one skewer. Keep some space between the shrimp so that the bacon can cook well.
Step 5: Season both sides of the shrimp with the Cajun seasoning.
Step 6: Brush the grill grate lightly with oil. 
Step 7: Place the skewers on the grill and let them cook for 2-3 minutes on one side. 
Step 8: Turn the skewers and place cheese slices over the shrimp. Cook until the bacon becomes brown and the cheese melts.
Step 9: Remove the skewers from the grill. Be careful not to burn your hand.
Step 10: Pull out the shrimp from the skewers, serve on a platter, and enjoy!
Image courtesy: google.com
How To Assemble Shrimp En Brochette