How to Decorate Cakes with Fruit
1 Jul 2010
Cakes are delicious treats that no one is ever able to resist. They add cheer and joy to any occasion be it a birthday celebration or an anniversary. Cakes add a sparkle to any party or even the holidays. Even a basic sponge cake's appeal can increase ten fold by getting completely creative and decorating the cake. There are many ways one can decorate a cake by adding flowers, fruits and nuts. Fruits are one of the best ways to add a delightful flavor, taste and a sunny presentation to any cake.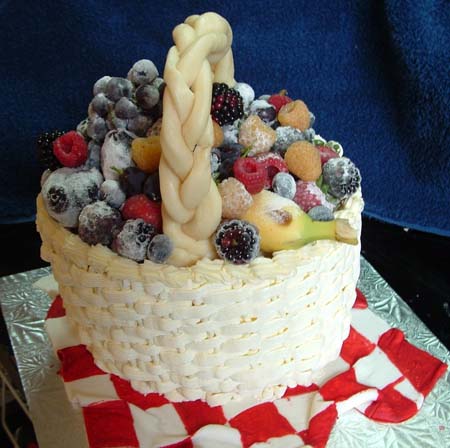 Fruits can be put on any kind of a cake and it will surely add a delicious touch of tangy and fruity flavor. Fruits can be added plain, sugared or even after being glazed with shiny syrup.
Interesting ways of decorating a cake with fruits
Fresh berries can be added on any cake or even whole strawberries can be placed around the outside of a black forest cake or a chocolate cake.
Another ideal option to make any cake especially fruit cakes, pineapple cakes or even fruit-based mousse cake are slices of kiwis, mangoes, oranges, grapes and pineapple.
The other option are frosted whole fruits such as figs, seckel pears, lady apples and grapes can add a classy touch to summer and fall wedding cakes.
Cut fruits do not last that long therefore it is important to serve the cake within the first few hours of decorating to ensure the fruits don't look stale.
Interesting recipes of decorating cake with fruits
Adding frosted cranberries is a great way to make even a simple cake look and taste delicious and decadent.
Frosted Cranberries: To make frosted cranberries, water, pasteurized egg white, package of fresh cranberries and white sugar are required. Water and egg white have to be blended together and cranberries need to be mixed in this mixture, coated with sugar and dried at room temperature.
Sweet Orange and Lemon Peal: Made from lemon peels, orange peels, sugar and water, this is undoubtedly one of the easiest recipes to make. Orange and lemon peel needs to be boiled in a mixture of sugar and water and then rolled into pieces in the remaining sugar. The peeled lemon and orange have to be dried before it is decorated on a cake.
Photo Credits: http://tastefullysweetcakes.files.wordpress.com
How To Decorate Cakes With Fruit