How to Make a Strawberry Tree Centerpiece
21 Jun 2010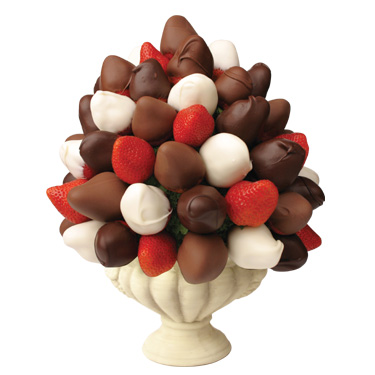 Strawberry Tree Centerpiece 
is one of the easiest and prettiest centerpieces that you can make at home. I am going to share the secret of How to Make a Strawberry Tree Centerpiece. I still remember the beautiful and elegant Strawberry Tree Centerpiece designed by my friend in one of her party's dining table. After the party, I asked her the recipe and tips. So, here it goes. 
Instructions on How to Make a Strawberry Tree Centerpiece 
1. Wash the strawberries carefully. First of all, you need to insert a toothpick on the top of each strawberry. While inserting the toothpick, be careful about leaving at least 2 and half inch of toothpick sticking out. 
2. You need to have the double boiler for making the Strawberry Tree Centerpiece. In case double boiler is not available, you can use a glass bowl. Place the bowl inside the saucepan with water. Keep in mind that the water in the saucepan should not touch the top of the bowl. Then you just turn on the burner on the low-medium flame.
3. After that put six baking squares in the top bowl and stir until melted. Never let the chocolate overheat and remove from the heat quickly.
4. Position a 12-inch foam cone on the center of the metal of the pan for holding the foam upright.
5. You need to dip lower 75 percent of each strawberry in the chocolate. Then, push the strawberries with toothpick into the foam. And keep pushing the strawberries until the tree is totally covered.
6. Lastly, to make the centerpiece more beautiful and natural, put some greenery in the shape of leaves. 
I hope these instructions on How to Make a Strawberry Tree Centerpiece will be helpful. So, the next time when you plan an elegant dinner at your place, don't forget to keep it stylish with the beautiful Strawberry Tree Centerpiece.  
Image Credit@ Flickr.com
How To Make A Strawberry Tree Centerpiece