Cupcake Presentation Ideas
22 May 2010
 As a kid, the one thing that always took my heart away was the nicely decorated and presented cupcakes. As always goes well to give as gifts, or just to add fun in parties, these cupcakes looks more delicious when displayed with a nice cupcake presentation ideas. If you widen your creative a little, you can create some excellent and easy cupcake presentations. My granny was used to an expert of decorating and presenting cupcakes. So, here are some of my personal favourite cupcake presentation ideas from my grannies pool:
1. You can present the cupcakes in a form of cake by placing all the little cupcakes together and then frosting them to get a full size cupcake cake. For this, try making shapes of single round figure, baseball, and smiley face. The frosting could be of any vibrant color that will make it more appealing and interesting. 
2. You can also try on some pleasant package decoration suiting the design and decoration of the individual cupcake. To give an idea, make a floral theme cupcake decoration with green colored grass board for the cupcakes, ladybugs, candy butterflies and some flowers. You just need to use your little creativity around those beautiful cupcakes to make a beautiful presentation of the cupcakes.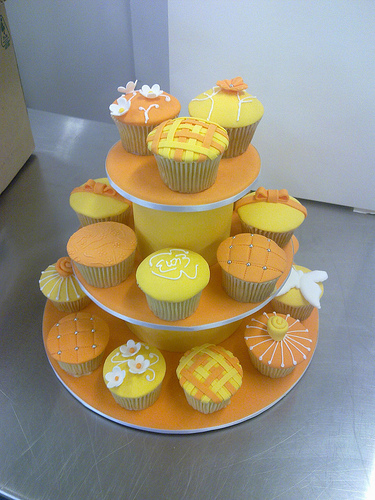 3.  One of the oldest but all time favorite cupcake presentation ideas is the decoration with message frosting or candy letters. You can always use candies and frosting to write that special message to that special person. 
4. Make use of frostings, candies, cake mix box and creativity, to present those sweetest cutest little birthday cupcakes. Believe me, decorating these little birthday cakes is addiction for all the creative people. 
I hope these small little cupcake presentation ideas and your imagination will help you making some adorable cupcake presentation. So, the next time if you plan to enjoy or gift a cupcake, you know how to present it better.  
Cupcake Presentation Ideas