The Coolest Cake Decorating Ideas & Tips
21 May 2010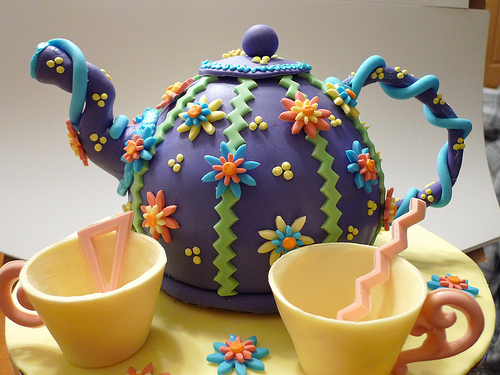 Cool and beautiful cakes are always a part of our big celebrations starting from birthdays, anniversaries to lavish wedding parties. The demand for cool and appealing cake decorations is very high these days as compared to the old fashioned layered frosted cakes. So, I am going to share the coolest cake decorating ideas and tips like the cool Alice in Wonderland-inspired tea set cake made of chocolate. You can easily learn some interesting cake decoration tips, so that you don't have to wait for the chefs. Decorating cakes could be a great hobby where you can also unleash your creative instinct. Some of the easily available options for decorating the cakes are Cookie crumbs, fondant, melted chocolate, and colored candies. 
Some of my personal favorite coolest cake decorating ideas: 
                                                                                                                                                                                                                                                                                                                                                                                                                                The colorful Rainbow Cake: This half circle shaped cake is colorful and is one of the best options for kids birthday parties. The cake can be frosted with white frosting and you can use some colored candies to makes rows of various colors. This will make the cake look like a colorful rainbow. To add some extra colorful effect, you can also try adding some liquid food coloring in the batter itself. The evergreen colorful rainbow cake is the perfect choice to make your kids party more colorful.
Piñata Cake: One of the most interesting cake decorating ideas, this is basically a round cake with single layer of 8 inch inside a piñata shell. You need to make a beautiful piñata shell using some smooth melted candies or chocolate coatings. This unique piñata cake must be served with a toy hammer to break off the outer candy shell like piñata. 
Here are few coolest cake decorating ideas and tips:
•    First of all, you need to identify an interesting idea or theme for the cake. This will help you in making the cake with fewer errors.
•    You must decide on the type of frosting to go well with the temperature of the place where you will be bringing the cake.
•    You can also think of some cake decorating ideas that is according to the interest of the receiver.
•    3D figures made of ribbons, icing, butterflies are also a great option for coolest cake decoration.
•    Always keep in mind that the Wedding cakes should be formal and elegant. 
So, the next when you plan to party hard, just try these coolest cake decorating ideas and tips to get appreciation from your entire guests. 
The Coolest Cake Decorating Ideas & Tips