Garden Time!
Yesterday was a scorching hot day in the mid 90's.  Today it is already 95 deg F in the shade at 2 PM and will keep climbing until 5 or 6 PM.  Tomorrow it will cool off back to the mid 70's or so.  Unfortunately yesterday was the first time I could get my regular gardening helper + a friend of his to plant my tomatoes, asparagus, eggplants, chiles, peppers, etc. 
 It required a lot of hand digging, as the rototiller had a sun split fuel line.  They had double dig 2' down by 2' wide and 15'+ long area against the back fence.  It gets some shade from a large but very tall oak tree.  I think that will be OK as it gets a lot of sun. for my asparagus which had just arrived-seems VERY late to me.
 
 
Yesterday the boys planted my purple asparagus,
 a dozen Eastern European peppers, 6 snail chewed on orange bell pepper starts, and serranos, Anjos, and Thai chiles, 6 Japanese Egg plants, and 26 Heirloom tomato plants-most are 12" to 24" high already.
 
 
Tomorrow is to be cooler (today will hit 100 deg F). So we'll plant out Thai Basil, Italian Flat Leaf Parsley, Violetto Beans, Ky Wonder Beans, Cherry Tomatoes, and lettuce (shady bed) will be planted.
Thai Basil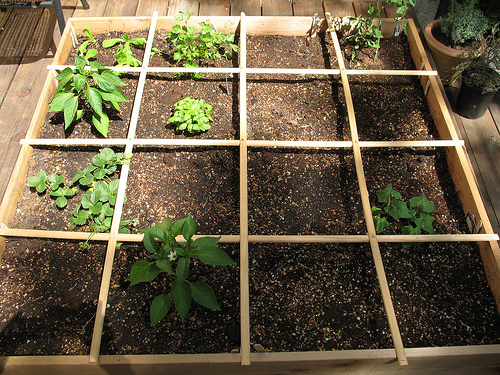 Herb Bed
 SunGold Cherry Tomatoes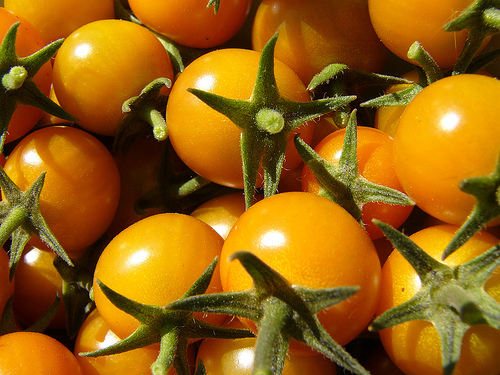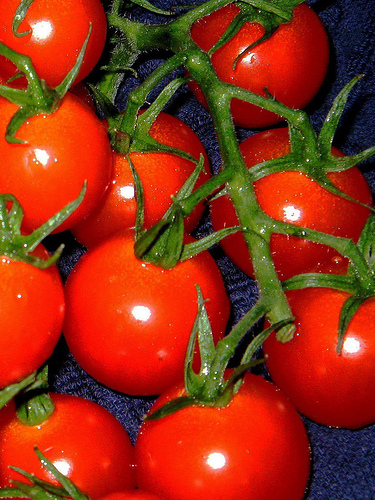 Sweet 100's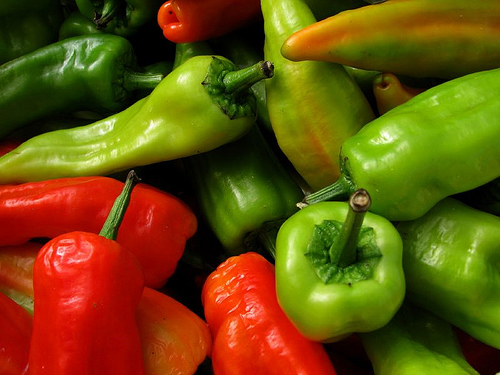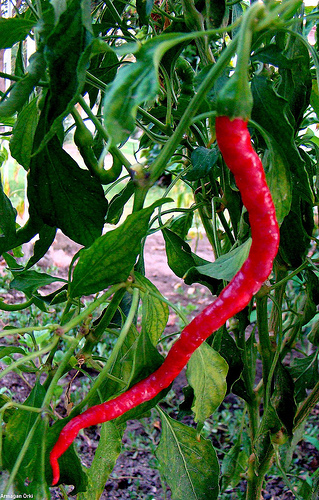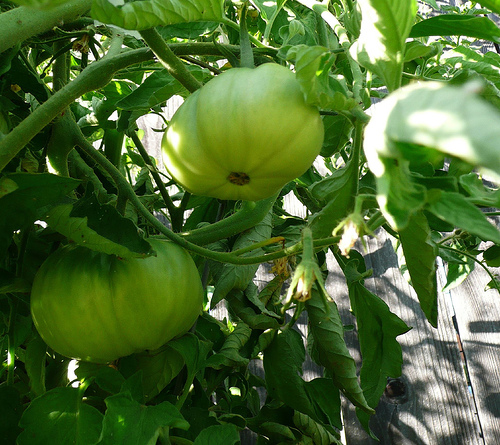 I succumbed to ordering 13 additional roses, etc. from Jackson Perkins and Spring Hill yesterday.  Couldn't resist the values-Most plants were 60% or more off regular price.  I know at the end of the season they literally burn the left over stock-so sad.
 
 
I ordered two gorgeous roses that I will plant in hanging baskets outside the kitchen greenhouse window (dinning area)
 
 Apricot Princess Rose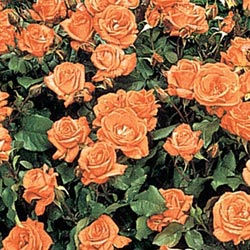 Butterflies are drawn to these sweet-smelling 2" double blooms that deepen from a vivid apricot to coral as they mature. Glossy, dark green foliage on sturdy stems sets the stage for these robust roses. Enjoy blooms for an extended period from midsummer to frost. Creates a lovely border, ground cover, specimen or container planting. Perfect for both fresh and dried arrangements. Grows just 18-24" tall. Space plants 18-24" apart. Rosa x 'Apricot Princess'
 
 
Many years ago (232) I was VP of a company called Foster & Gallagher.  At that time they owned Breck's, SpringHill, WhiteFlowerFasrms, Stark Brothers, Michigan Bulb, and several other catalogs.  Yesterday I took advantage of the SpringHill coupon of $25 off an order of $50 or more.
6 plants - Perennial Hibiscus Mix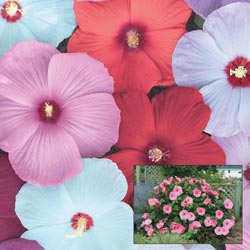 The Perennial Hibiscus Mix is a brightly colored mix of winter hardy hibiscus which grow to 4' or more in height, making a spectacular display at the back of a border or in a large pot. 'Galaxy' Hibiscus Mix produces enormous flowers, up to 10" across, in shades of red, pink and white. Blooms keep coming all summer long, attracting butterflies all the while. Space plants 36-40" apart.   Last year I bought 3 of these hardy Hibiscus plants and they were $25 each!  I just bought 6 smaller plants for a total of $25!!!!!
 
I also ordered 3  Snail Vines which is fragrant and we'll plant on the posts that hold the trellis covering over the fragrant garden beside the greenhouse next to the bedroom deck.  We love to sit out there for morning coffee or an evening glass of wine  and watch the hummers flit about.  There are 4 citrus in large redwood planters on this deck. 
Climbing Shell Plant
Fast-growing, twining 20-25' long vine attracts butterflies with fragrant flowers from midsummer into fall. The 2" blooms have a unique shell-like shape. Can even be grown in containers. Vigna caracalla
 
Rolando was to come today but couldn't.  He will be back next Saturday and I will have him work on the wall along side the new garden bed back of the pond area.  I ordered a bunch of gorgeous bare root roses from Jackson-Perkins.  I was surprised they still had them and at 50%+ off!  That made them cheaper than in scrawny in pot ones at HD which were vin ordinaire.  LOL  The English roses will be planted along the 25' side of the new garden bed.  This will have a natural stone wall about 12" high.
532914-janet-english-rose.32556jp-feature
Janet English Rose
532915-christopher-marlowe-english-rose.30975jp-feature
Christopher Marlowe English Rose
532916-abraham-darbyar-english-rose.29726jp-feature
Abraham Darby English Rose
532917-falstaffar-english-rose.29729jp-feature
Falstaff English Rose
532918-crown-princess-margaretaar-english-rose.30212jp-feature
Crown Priness Margaret English Rose
 
 
 
 
 
 
 
 
 
 
 
These climbers will be planted behind two 8' long raised beds next to the house for garden colour!  The 3rd one will be planted and trained along one side of the redwood 3' fencing surrounding the pool area.
 
532919-stairway-to-heaven-climbing-rose.26187jp-feature
Stairway to Heaven Climbing Rose


532920-dream-weaveracclimbing-rose.02204jp-feature
Dream Weaver Climbing Rose


532921-social-climber-climbing-rose.30210jp-feature
Social Climber-spice-scented blooms
 
 
 
 
 
 
 
 
 
 
 
 
 
 
These will be planted along the back of the new bed amongst other roses.  We love roses and have so many!
532922-elegant-lady-hybrid-tea-rose.36898jp-feature
Elegant Lady Tea Rose
532923-geminiachybrid-tea-rose.01074jp-feature
Gemini Tea Rose
 
532924-melody-parfumaceacgrandiflora-rose.09354jp-feature
 
Melody Parfumée Grandiflora
 
 
 
 
 
 
 
 
 
 
 

532925-lavender-sugarberry-ruffles.41713jp-feature
Lavender 'Sugarberry Ruffles'
Fragrant pink blooms repeat all summer.
 
 
 
 
 
 
 
 
 
 
 
Bonus plant
 
 

  
Garden Time!