How To Puree Pineapple

24 Nov 2011

If you are the type of person who loves to make things by yourself, then learning how to puree pineapple can be really useful in cooking pineapple milkshakes, pineapple breads, cakes, cookies, cocktails etc. It is really very simple to do and the steps given below would make sure of that. So, read on…
Principle behind Pineapple Puree
This tropical fruit can be blended easily when ripe. The fruit is soft and can be pureed for use in various recipes. The puree can be further boiled for increasing shelf life.
Steps to Puree Pineapple
556188-pineapple-puree.pureeing-pineappleBuy ripe pineapple without any blemishes or bruises on the exterior.                                                                                                 
Cut away the peel and the core of pineapple. Make sure there are no brown spots on the pineapple.
Cut pineapple into rings or chunks.
Transfer pineapple pieces into blender and blend well for about 5 minutes to get a watery, yet coarse puree. Pineapple has high water content hence; the puree should be drained using a sieve.
Collect the sieved puree in a clean container and use as desired.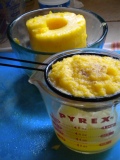 Pineapple puree can be mixed with milk or cream if planning to use it as baby food. Boil the puree and cook for a few minutes for storage purposes.
Learn to puree pineapple at home and enjoy tropical taste more often!
Image credit: bakerymanis.com/ ; myhomemadehappiness.com/ ; pran-oriya-recipies.blogspot.com/
How To Puree Pineapple