How To Puree Tomato

17 Nov 2011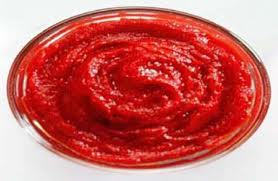 Tomato puree is by far the best and one of the easiest ways to preserve tomatoes if they have been bought in excess. Pureed tomatoes can be stored in refrigerator and used in various recipes. All that is required for pulping tomatoes are a food processor or a blender, a pot of hot water and of course, fresh, ripe tomatoes. So, shall we begin pureeing them…
Principle behind Tomato Puree
Tomatoes should be either blanched or baked prior to pureeing. Blanching would loosen the peel making it easier to remove the skin.
Steps to Puree Tomato
Wash tomatoes well and pat dry.                                                                                                                                                           
Cooking method:

Boiling – Fill a pot with water and let water come to a rolling boil. Put the tomatoes in the pot and let cook for about 7 to 8 minutes. Remove tomatoes from boiling water and immerse in cool water to stop the cooking process. Tomatoes can be peeled easily at this stage and most people prefer to peel them off prior to blending.
Baking – Preheat oven to 375 degrees F. Place cleaned tomatoes on baking sheet and bake until skin of tomato begin to become brown in color.

Blend tomatoes in a food processor or a blender.
Use a sieve or a mesh to remove seeds and remains of skin.
Cover with a cling film and refrigerate throughout the night.
The next day, decant the liquid accumulated on top of puree and use concentrated puree as desired.
Watch the video for more information on the same:
Learn how to puree tomato at home and enjoy the fresh flavor of tomatoes even during off-seasons.
Image credit: funnyloveblog.wordpress.com/ ; javanehskitchen.files.wordpress.com/
Video credit: youtube.com/
How To Puree Tomato