How To Cook Zucchini On A Gas Grill

10 Nov 2011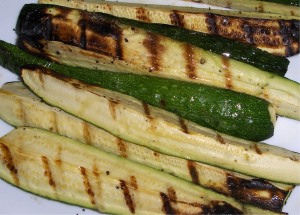 Believe it or not, gas grilling is one of the best ways to savor zucchini. They are naturals on the grill and get cooked in a jiffy. When served sprinkled with Parmesan cheese, grilled zucchini can pass off as any exotic dish. So while planning for the next outdoor gas grilling picnic, do not forget the zucchinis. Read on to get all the steps right…
Steps to Cook Zucchini on a Gas Grill
Buy fresh zucchinis. Wash and dry them.
Slice off the ends and cut lengthwise into two equal halves. Alternately, zucchini can be sliced into rings of about ½-inch thickness.
Make a mixture of olive oil, salt, and pepper. Brush zucchini slices with this. Zucchini can be marinated in desired marinade for hours too.
Clean the grill and spray with non-stick cooking spray. Preheat it to medium-high temperature.
Place zucchini slices on the grill and let cook for about 5 minutes.
Once the grill marks appear on the slices, turn them slightly and cook for 4 minutes. Flip them over and cook for additional 7 minutes.
Zucchini is done when the flesh softens and yet is retaining its shape.
Season again with salt and pepper if desired.
Watch the video for more information on the same:
Tips to cook Zucchini on a Gas Grill
Zucchini easily burns in the grill and hence make sure to monitor the entire cooking process.
Stuff zucchini with desired stuffing like beef, mozzarella cheese, by hollowing out the insides of zucchini halves. Wrap them in foil and grill for about 20 minutes.
Cook zucchini on a gas grill either seasoned with salt and pepper or dressed with Italian dressing. Serve warm with grilled tomatoes and onions. Enjoy a lovely grilled platter of choicest veggies.
Image credit: eatmoreveggies.wordpress.com/
smartfoodandfit.wordpress.com/category
Video credit: youtube.com/
How To Cook Zucchini On A Gas Grill