How To Cook Whole Garlic

21 Oct 2011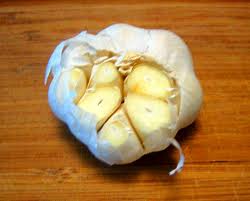 Garlic is usually shallow fried or roasted in the recipe it is added to. Garlic is very healthy and a few cloves are enough to impart the right amount of flavor to a dish. However, occassionally thet can be roasted whole and served as a dip or side dish. Let us see how garlic can be roasted whole.
Steps to Cook Whole Garlic
Buy garlic heads from market. Remove the papery covering and cut away ¼ inch from the top of the head to reveal the cloves.   
Place these cut heads in a baking dish and sprinkle olive oil generously over them.
Preheat the oven to 425 degrees F.
Cover the baking dish with aluminum foil and place it in the oven.
Roast the garlic for about 40 to 45 minutes. When done garlic would become soft.
Serve the garlic with figs and goat cheese.
Cooking whole garlic is very easy and tastes good too. Roasted whole garlic can be served with an extra serving of olive oil and hot bread.
Image credit: thehungryhomebody.wordpress.com/ ; speckless.wordpress.com
How To Cook Whole Garlic