Tips To Cook Frozen Salmon
22 Sep 2011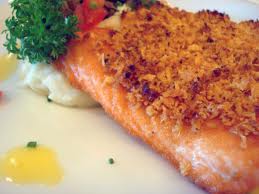 Salmon is the ultimate crowd-pleaser that goes well with almost all side courses and makes for a yummy addition to your meal. High in protein and omega-3 fatty acids, salmon retains much of its nutrition and flavor even when frozen. Although you can directly put salmon from freezer into pan, it is always good to thaw fish thoroughly and then cook it for better taste and nutrition. For your assistance, we have compiled tips to cook frozen salmon. Read them to get started.
How To Cook Frozen Salmon
Never mind if you can't enjoy fresh salmon. Frozen salmon are as good as the fresh ones and the best part is that you don't really need to thaw the fish to get the most out of it. Just rinse off the icy glaze using cold water and pat it dry with a kitchen towel.
When using frozen salmon, make sure that the fish isn't more than six months old. Also, while thawing fish, never do it at room temperature, as exposing fish to room temperature for too long will lead to bacterial growth on the fish. The best way to thaw the fish is to refrigerate it overnight. However, if you are short on time, then place the fish fillets in a bowl of cold water for an hour or two for quick thawing.
Once the fish is thawed, you can bake, grill, or fry it, as you like. Insert prongs to see if the fish is perfectly done. The salmon would flake if cooked well.
If you want to bake salmon, preheat the oven to 400O F. Grease the baking sheet, put the fillets on top of it, and bake until done.
These tips to cook frozen salmon are likely to help you next time you are all set to treat your guests to salmon delight.
Image Credits: homecookedbudget.tumblr.com
Tips To Cook Frozen Salmon