Popular Sauces for Beef Wellington

12 Aug 2011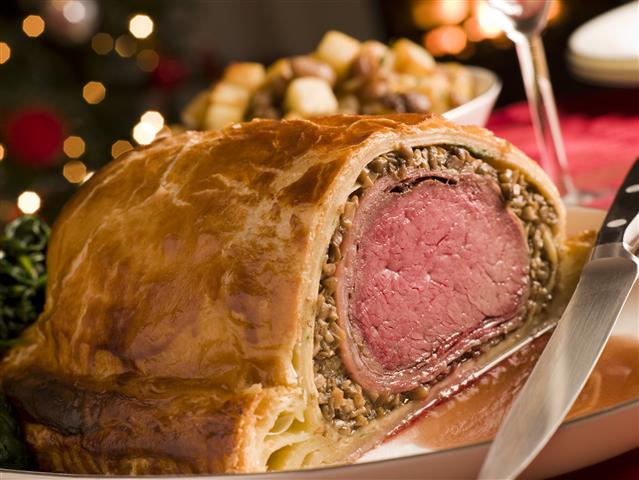 Variety of sauces can make beef wellington sumptuous, and perfect to be served in any occasion. You can quickly prepare sauces for beef wellington at home and serve the dish loaded with the flavors. In this blog, I would like to share some unique sauces that can be prepared quickly at home, so that you can surprise your family and friends.
Shallot Red Wine sauce:
Shallots, garlic, rosemary, balsamic vinegar, red wine and beef stock are cooked together in this yummy sauce and served with hot beef wellington. The sauce takes maximum of 20 minutes to prepare which includes the preparation time. You may also use brown chicken broth instead of beef broth in the sauce.
Madeira Sauce:
A perfect mixture of Madeira wine, beef stock, shallots, thyme, bay leaf, black peppercorn and cornstarch makes it the best sauce for beef wellington. Herbs like parsley and basil can also be used in place of thyme.  Black peppercorn makes the sauce spicy and it also stimulates appetite.
Tomato sauce:
Delicious sauce prepared with bacon, onions, carrots, fresh tomatoes, garlic, tomato sauce, dried thyme, rosemary and pepper. The amount of pepper and salt can be increased and decreased depending on one's taste preference.
Hollandaise Sauce:
The name of the sauce might scare you but if you have the ingredients handy then it is easy enough to prepare. All you require to prepare the sauce is egg yolks, butter, white wine vinegar, lemon juice, bay leaf, and peppercorn. With your classic skill of cooking and blending you can add ingredients that suite every carving taste buds.
Mustard Chive sauce:
Addictive sauce prepared from Greek yogurt, honey, Dijon mustard lemon juice, fresh chives and black pepper.
Hope you will prepare and enjoy the sauces for beef wellington listed above!
Image credits: dreamhighvoltage.blogspot.com, legendfoodproduct.com, thehotzoneonline.com
Popular Sauces For Beef Wellington