Popular sauces for fajitas

11 Aug 2011
553089-roasted-pepper-cream-sauce.jpgw500h375If you know the right sauce for fajitas then you can serve them anytime to your family and friends. Sauces for fajitas can be either prepared at home or you can even buy some readymade sauce from stores. Different sauces can be prepared and served with the popular Tex-Mex creation, commonly referred to as grilled meat. Check out some delicious sauces that you can serve with fajitas.
Hot Pepper Cream Sauce:
Exquisite sauce that will sweep you off your feet, prepared from sour cream, cilantro, chili pepper, green sweet pepper, red sweet pepper, cheese, and butter. It takes maximum of 30 minutes to prepare the sauce and it contains 204 calories per serving which includes fat, sodium, protein, and cholesterol. You can also bring a little variation to the sauce by introducing different herbs like basil or mint. The sauce tastes amazing when served with vegetable fajitas.
Creamy Cilantro-Lime Sauce:
Light and creamy sauce prepared from sour cream, mayonnaise, milk, lime juice, garlic cloves, fresh cilantro, and balsamic vinegar. The sauce has a tangy taste with a fine aroma. If you are diet conscious and would like to serve a healthy meal to your family then you can use fat free sour cream and skimmed milk while preparing the sauce.
Avocado Sauce: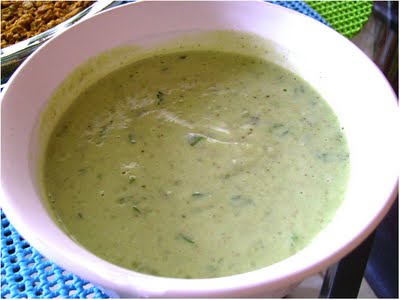 Chopped avocados, sour cream, and lime juice are blended together, giving it a creamy texture and making it the best sauce for fajitas. It is a perfect compliment to be served with fajitas and the presence of avocado makes the sauce perfect even for people with high cholesterol level.
Cashew Cheese Sauce:
Perfect blend of red bell pepper, nutritional yeast, onion powder, garlic powder, cornstarch, cashews, and lemon juice makes this sauce sumptuous. It takes only 5 minutes to prepare the sauce if you keep all the ingredients required to prepare it ready.
Green Yogurt Sauce:
Smooth green sauce consisting of yogurt, lime juice, jalapeno pepper and cilantro leaves. The sauce has yogurt in it, which is just perfect for calcium intake.
Try out these popular sauces for fajitas and don't forget to share your experience with us!
Image credits: foodjournalofhershey.wordpress.com, eatnvegn.blogspot.com
Popular Sauces For Fajitas