Popular Sauces for Egg Benedict

11 Aug 2011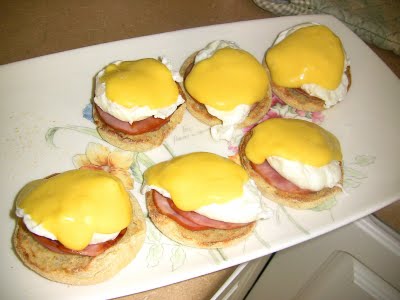 Serving Egg Benedict with an array of sauces will turn this dish into a delectable delight to relish. Try preparing the sauces for egg Benedict at home and store it, so that you have it ready during your rush hours. Given below are some unique sauces that you can try out and serve with egg Benedict – thereby, bringing a great variety to the dish.
Hollandaise Sauce:
This sauce is very simple to make, however if you feel lazy you can get it from any of your nearby grocery store. Hollandaise sauce when prepared at home is fresh and it also enhances the taste of the dish when served. All you need to prepare the sauce is white wine vinegar, shallots, bay leaf, white pepper flakes, egg and butter.
Fresh Pineapple Dip:
Easy to prepare sauce where pineapple pieces are cooked along with egg, sugar, all purpose flour and cream. The sauce has a sweet taste and this makes it the most loved especially by children. Moreover pineapple in the dip helps you lose weight and it is also very effective in maintaining good eye health.
Egg Benedict with Cheese sauce:
A sauce that you can never miss, prepared from milk, corn starch, butter, pepper, ground nutmeg, cheddar cheese, and egg. If you do not have butter, then you can always use margarine instead of butter. The sauce has a smooth creamy texture and is the best sauce for egg Benedict. You can also add herbs like parsley to the sauce and bring about a difference in its taste.
Béarnaise sauce:
A favorite sauce where dried tarragon, red wine vinegar, shallots, egg, lemon juice, cayenne pepper and butter are cooked over medium heat for 10 to 15 minutes before they are served with egg Benedict. Cayenne pepper adds spice to the sauce and it has an amazing effect on the circulatory system.
Hope these sauces for egg Benedict will be of great help to serve the dish with variation each day.
Image credits: chileanflavor.blogspot.com, whenthedinnerbellrings.blogspot.com 
Popular Sauces For Egg Benedict