Popular Sauces for Dumplings:

4 Aug 2011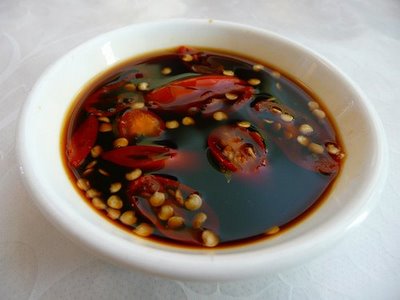 Sauces for dumplings are meant to dip the dumplings and add a slight bitterness to the taste. These popular dumplings sauces help to increase the savory flavor over the unique salty flavor of the meat, used in the preparation of the dumplings. Sauces are specially prepared to make the dumplings soft, especially those which are slightly crispy. These sauces can be prepared at home or can be purchased from the local stores too. Check out some popular sauces for dumplings.
Simple dumplings sauce:
This simple dumplings sauce is prepared with chili oil, minced garlic, rice vinegar, sliced green onions, sugar, soy sauce, minced ginger and little bit of sugar. All the ingredients are well combined in a small bowl and dissolved so that the sugar melts. It can be stored at home for anytime use.
Fried dumpling sauce:
A special sauce which helps to soften dumplings! The main ingredients used in the preparation of dumplings are chopped green onions, garlic cloves, rice vinegar, sesame oil, soy sauce, chili sauce and little bit of sugar. The ingredients are diced well especially green onions and garlic. The flavor of the garlic helps to enhance the taste of the sauce – the more garlic you use, the more shall be its flavor. Chopped green onions are used to garnish and also contribute to the softness of the sauce. You can increase or decrease the use of each ingredient as per your taste preference.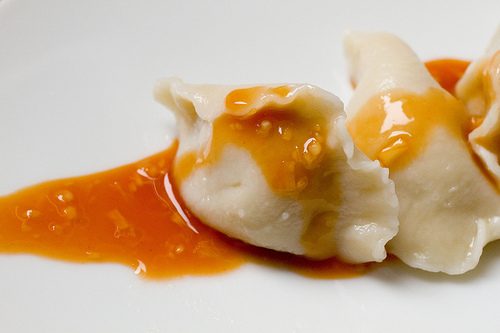 Quick and hot dumpling sauce:
This is a specialty Chinese sauce which is served with dumplings. The main ingredients used in the preparation of this sauce are light soy sauce, mushroom sauce, red wine vinegar, granulated sugar, chili oil, sesame oil, little bit of sugar, salt, minced ginger and clove garlic minced. To prepare this sauce, you will just have to whisk all the ingredients well till you get a thick consistency.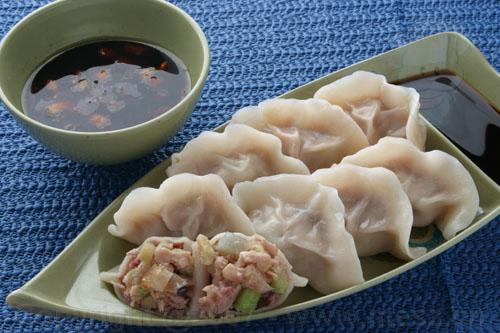 Dumpling dipping sauces:
One of the quickest and easiest sauces which can be prepared at home as quickly as in 5 minutes. The main ingredients used in the preparation of this sauce is light soy sauce, dark soy sauce, red wine, rice vinegar, chili sauce, granulated sugar, chopped and peeled garlic and also minced ginger. The ingredients are all combined, mixed together and well blend to get a thick sauce.
With so many options in sauces for dumplings, I don't think it shall be a tough job for you to choose a sauce of your choice for your next dumpling party!
Image credits: asiansupermarket.blogspot.com, chinesenewyearfoods.blogspot.com, foodmayhem.com
Popular Sauces For Dumplings: