Tips And Ideas To Plan Thanksgiving Barbecue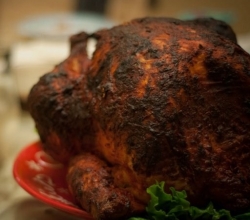 Change things this November by hosting a Thanksgiving barbecue instead of the usual dinner party. A formal dinner can get bland and predictable, you know. A barbecue is sure to enliven things up, create an entertaining atmosphere, have the men and women involved in activities and will make this evening a memorable one.

Food
By barbecuing your turkey, you can free up your oven to make some other side dishes and desserts. In fact the bbq turkey might just end up tasting so darn good that you may not want to eat it baked again. You could try making this meal healthy by preparing a homemade cranberry sauce with a sugar substitute. The store bought ones are usually loaded with calories. Replace white rolls with whole-wheat rolls. Instead of cooking a whole turkey, you could opt to cook a turkey breast. Experiment with new recipes to create something exciting and delectable.

 

Food Alternatives
There may very well be guests at your thanksgiving barbecue who do not eat meat. Vegetarian alternatives are usually not difficult to come by. You could pick a tofu turkey, grill a ton of veggies like asparagus, corn on the cob, zucchini, potatoes in their jackets, portabella mushrooms (which can be stuffed with some cottage cheese). With all these great options available, no vegetarian is going to go hungry.

 
Beverages
Besides wine or champagne, apple cider is a fantastic beverage to offer at Thanksgiving. Other drinks to think about serving either during the meal or with the dessert include  spiced pumpkin latte, cranberry punch, eggnog, mulled cider and of course, soda. Juice and water are of course a given.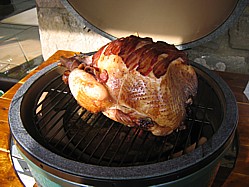 Dessert
Thanksgiving is an ideal time to try new desserts. Alongside old favorites such as apple, pecan, pumpkin and sweet potato pie, consider adding a pineapple cake, blueberry cheesecake, dark chocolate torte, strawberry cream pie and banana pudding. You can go all out with the pumpkin and make pumpkin cookies, bread, mousse, rolls. The sky is the limit with what you can make with pumpkin.  If you want to make a dessert that is more barbecue centric, go for smores.



Table Décor
Since Thanksgiving comes right after Halloween, you could easily use some of your left over décor like pumpkins and squash to add a nice touch to the back yard. Use a colorful table cloth, multi colored paper plates and bowls. You can use pine cones to create some festive table décor. You can even have some craft projects for the kids to indulge in, their handiwork can be used to add to the décor.
Hopefully these Thanksgiving barbecue ideas have got you all geared up to plan this out this year and surprise your guests. You could always do it potluck style and have them bring something along as well.
Image credit – ifood.tv, barbeque-smoker recipes