BAKED FISH FAJITAS – A TASTY, HEALTHY TWIST!
2 Aug 2011
Baking fish is a healthier option, and less messy, too.  This particular method—breading then roasting fish at high heat—provides crunchy texture similar to fried, while keeping it moist and flavorful.    Serve fajita-style, wrapping fish strips in a soft flour tortilla with sautéed onion, colorful red pepper and tomatillos with touch of cilantro, lime and strips of nutty cheese.

SHAKE-BAKE FISH FAJITAS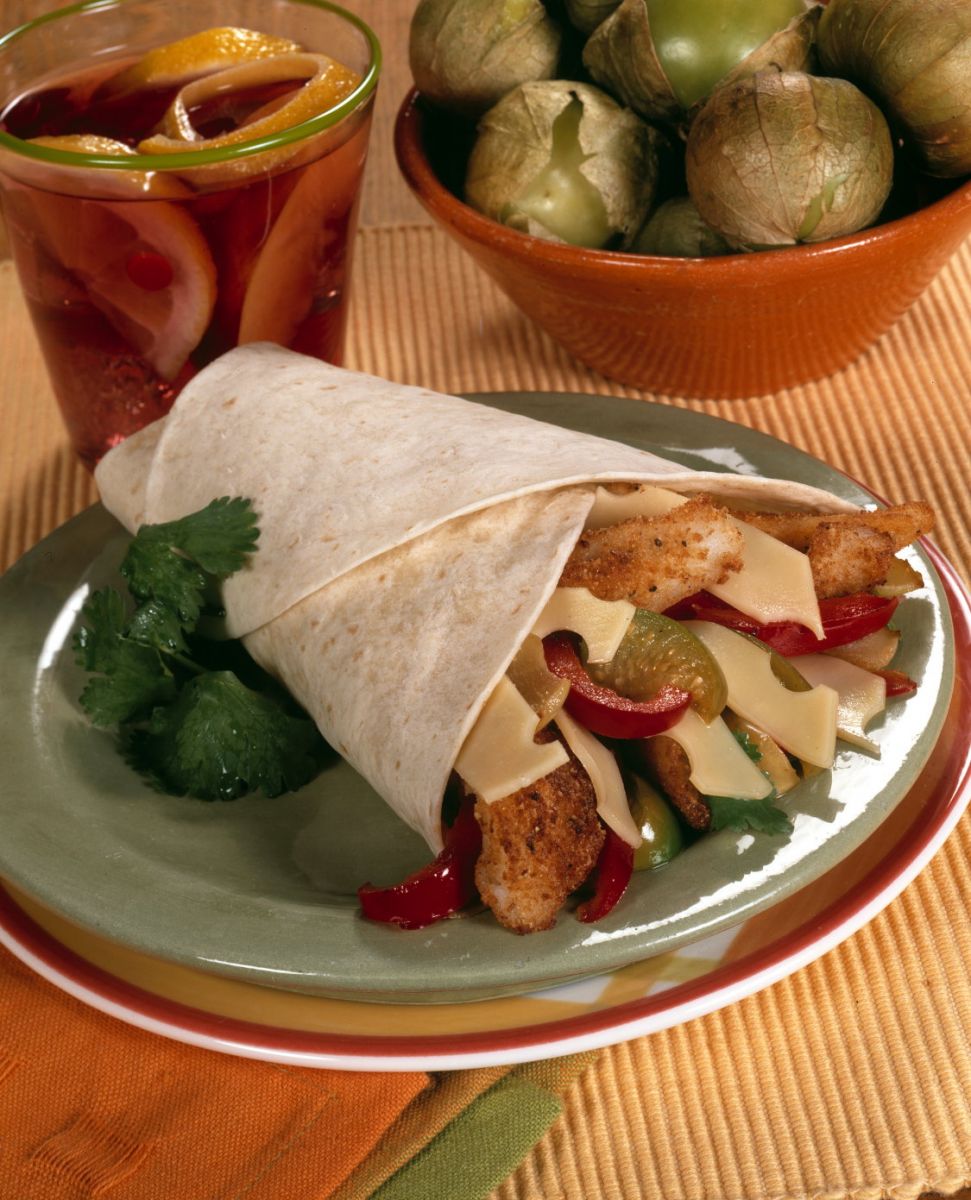 1 pound flounder fillet (or other mild firm fish such as cod or tilapia), cut lengthwise in ½-inch wide strips 

1/4 cup fine, unseasoned bread crumbs 

1/2 teaspoon each salt and pepper 

1 medium onion, sliced 

1 large red bell pepper, cut in strips 

8 tomatillos, husks removed, then quartered (or 1 cup chopped green tomatoes) 

1 teaspoon cumin
4 large 10-inch flour tortillas
4 ounces Jarlsberg (or reduced fat version) cheese slices, cut in strips
¼ cup finely chopped cilantro, mixed with squeeze of lime
Preheat oven to 425o.
 

In plastic bag, gently shake fish to coat with bread crumbs, salt and pepper and place on non-stick baking pan.  Spray fish lightly with oil and roast 15 minutes, or until fish is opaque and flakes easily.  In large non-stick skillet, saute onion, pepper and tomatillos with cumin until just tender, about 10 - 12 minutes.   Transfer vegetables to warming plate. 
Heat tortillas according to package directions.  Divide cheese evenly between tortillas; top with vegetables, fish and cilantro.  If desired, serve with traditional tartar sauce or make a Tex Mex version, combining 1 tablespoon minced canned chipotle chilies in adobo with 1/2 cup mayonnaise.  Serves 4. 
Story and recipe courtesy of Jarlsberg, a semi-soft part-skim milk cheese with large "eyes" and mild, mellow-nutty flavor.  A product of Norway, Jarlsberg is traditionally produced and aged, completely natural and an excellent source of protein and calcium.  Substitute Jarlsberg in almost any recipe calling for cheese—you'll love the delicious results.  For more information, visit www.jarlsbergusa.com
Photo credit:  www.jarlsbergusa.com
BAKED FISH FAJITAS – A TASTY, HEALTHY TWIST!