Labor Day Barbecue Ideas - Tips And Ideas To Plan A Labor Day Barbecue

1 Aug 2011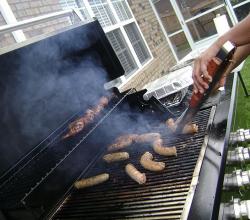 A good Labor Day barbecue is not just about the food and drinks, it's the excitement of hanging out with friends, family and enjoying the spirit of the party. If you plan this right, you can make your labor day barbecue an event for people to remember for a long time to come. Here are some great labor day barbecue ideas.
Hosting a barbecue does not mean having to do it in your backyard. Pick a serene spot out at a local park or beach and schedule it there. It may require a little more effort on your part but portable carriers can easily help out. You can carry your own portable grill if you don't want to use the communal one. With the added space you can have more entertainment options available, carry baseballs and gloves, kites, and other outdoor toys.
Camp it Out
You can turn the Labor Day barbecue into a 24-hour event by turning your backyard into a small campground of sorts. You can go all out with the campfire, tents, and barbecue pit. Have everyone bring a tent along and make their own little campsite. You can barbecue for lunch and dinner, make the usual, steaks, hot dogs, corn on the cob, potatoes, and mushrooms. For dessert you could always make smores and a strawberry rhubarb pie. Arrange for some games to be played during the day such as potato sack races, wheel barrow races, maybe even a scavenger hunt.
 Traditional Barbecue
If you do end up doing the barbecue in your own backyard, remember to make sure you have the menu prepared well in advance. Making the barbecue a potluck event makes it easier for you to get the food organized.  Let your guests know what they can bring along. If you have this entire event well planned and organized, the party should go off without a hitch. You could make the invitations yourself at home.
Remember to add ice to the bucket or cooler to ensure that you have adequate chilled drinks for the guests, If you are expecting children too as guests, it might be wise to skip alcohol. Get a variety of drinks for the guests to enjoy and invest in a drink cooler with a spout so you can have lemonade for the kids.

Since the weather is usually fine in September, Labor Day is an ideal time to get one last barbecue lunch or dinner in before having to pack the grill up for winter. Have fun with the Labor Day Barbecue and enjoy this time with family and friends.
Labor Day Barbecue Ideas - Tips And Ideas To Plan A Labor Day Barbecue