Seasoning For Burger-How To Tips & Ideas
27 Jul 2011
Instead of sticking to your usual salt and pepper blend for seasoning your burger, try making a special blend that combines all your favorite flavors. Below are some tips and flavor combinations to help get you started!
5 Lip-Smacking Seasonings for Burgers
Simple Seasoning
For beginners, the easiest choice for burger seasoning may be to spruce up the basics a little bit. Combine paprika, salt, garlic powder, onion powder, black pepper, ground mustard, and cayenne pepper together in a bowl. The measurements of these ingredients can vary according to your personal taste. Once you've seasoned your burger, you can store this mix in an airtight container for later use.
Greek Seasoning
To create a Greek-inspired seasoning, combine sun-dried tomatoes, salt, fresh oregano, fresh basil, lemon juice, pepper, and feta cheese in a bowl. The feta cheese is a special Greek addition to the seasoning, which offers a smooth, silky and slightly salty burst of flavor to your Greek style burgers.
Cajun Seasoning
To prepare a seasoning at home, you will need Worcestershire sauce, salt, cumin powder, dried oregano, garlic powder, onion powder, and cayenne pepper. Adjust the quantity of cayenne pepper according to preferred level of spiciness. Prepare the seasoning in advance and store inside the refrigerator sealed in an airtight container.
Lemon-Pepper Seasoning
Many of the burger foodies are quite fond of lemon pepper burger seasoning. The strong, lemony flavor combined with pepper, adds a delicate touch to the burgers. The ingredients are salt, lemon pepper, garlic powder, dried or fresh parsley, lemon juice, Worcestershire sauce, and freshly ground black pepper. You can adjust the quantity of lemon and pepper to include as much or as little as you'd like.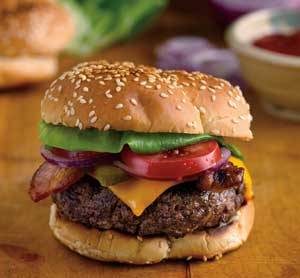 Barbecue Seasoning
This basic Barbecue seasoning contains salt, pepper, garlic powder, onion powder, celery salt, chili powder, dried oregano, barbecue sauce, Worcestershire sauce, and Dijon mustard. Combine all these ingredients together with your ground meat and then form patties to grill.
Use these easy burger seasoning ideas to prepare delicious burgers in the comfort of your own home. If you discover more seasonings for burgers, please feel free to share them with us below!
Image Credit: ifood.tv, foododelmundo.com, barbecuebible.com
Seasoning For Burger-How To Tips & Ideas