Growing Daikon

1 Jul 2011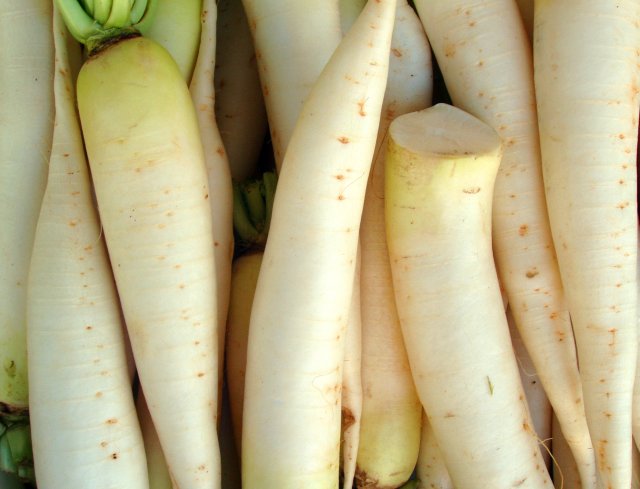 If you are planning to start your own vegetable garden and wondering about tips for growing daikon, then you have come to the right page. This article is all about growing tips for daikons. For home gardeners, daikon is very easy to grow.

 
Daikon, also known as white radish, Japanese radish or Oriental radish, is a mild flavoured white East Asian radish originated in continental Asia. It can be grown organically without too much trouble. Let's see some of the useful tips for growing daikon.

 
How to grow daikon:

 
Daikon is a cool weather crop. It prefers shady moist pots and rich well-drained soil. It really grows well in well-worked, composted, friable (loose crumbly) garden soil.

 
After preparing the soil, you can plant the seeds thinly at the depth of around ¾th inch. After ten days you can find the seedlings. Thin to the spacing of 6 inch in the rows to give enough space for the daikons to grow. As the plant grows, hill garden soil up around the stems.

 
Water the soil evenly and do not allow the soil to get dry. You can reduce watering once the plants reach maturity.
Daikons can be harvested as small as 5 inches in length. The smaller the daikon the milder and less peppery it will taste and the less fibrous its texture.

 
Caring tips for daikons:
After harvesting the daikons, you can store them in your refrigerator where they will keep well for one or two months.

 
Daikons can be attacked by flea beetles, cabbage root maggots and many other insect pests. Floating row cover or spun polypropylene blanket can be put over the daikons in order to protect them from these pests.

 
So if you want to explore the flavors of Asia, start growing daikons in your own garden. It will be a fun for you and your family members.

 
Image credits: hancockseed.com/,  organicfoodsdelivery.com/
Growing Daikon