Growing Radicchio

27 Jun 2011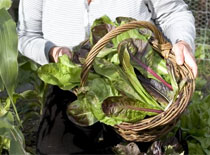 Growing radicchio can be the exciting hobby for you and your family. Being a native plant to Italy and Europe, it grows very well in the spring and fall months.

 
About radicchio:
Radicchio is a leafy vegetable which can be grilled, baked or even eaten as the salads.  It is usually known for its bitter and spicy taste. But the bitterness can be reduced if grilled or roasted.

 
Let's check out the various steps on how to grow radicchio:

 
How to grow radicchio:

 
You can grow radicchio either outdoors or indoors. Let' see both the methods.

 
Growing radicchio outdoors:
For planting the Radicchio outside, you need to select the appropriate location. Radicchio likes to grow in well fertile soil with high level of moisture. Radicchio likes to stay in full sunlight but grows well in partial shade too.

 
After selecting the location, you can sow the seeds of the radicchio plant directly on the ground preferably at the end of the spring. Sprinkle the seeds over the prepared area and cover them with layer of soil of about ¼ to ½ inch.

 
Make sure to water the seedlings regularly. If you do not give water, the seedlings may dry out and turn bitter in taste.

 
If you find that the seeds are getting very crowded, you can thin them when they begin to sprout.

 
When the first frost is over, cut out the outer leaves and allow the inner curled leaves to grow. The color of the leaves will become dark when it gets colder resulting in the formation of plant heads.

 
Growing radicchio indoors:
For growing the radicchio indoors, you can start them about eight weeks before the last frost of your region. Select the container and sow the seeds about ¼ inches deep into the soil. Always plant one seed in one container.

 
Make sure the pH of the soil is between 5.5- 6.8. The root system of the plant will begin to develop when the seed produces the seedlings. Put the container in a sunny area.

 
Water the seedlings during its growing season. This will encourage the good development of the plant.

 
You can harvest the radicchio when the heads are full grown.

 
Store the radicchio in the refrigerator for longer period of time. Take out from the refrigerator when you need for your kitchen purpose.

 
So just take out time from your busy schedule and start growing radicchio in your own home garden. It will be a pleasure activity for you and your family.

 
image credits: blog.gardenersworld.com/, akitchengardeninkiheimaui.blogspot.com/ 
Growing Radicchio