Growing Turnip

24 Jun 2011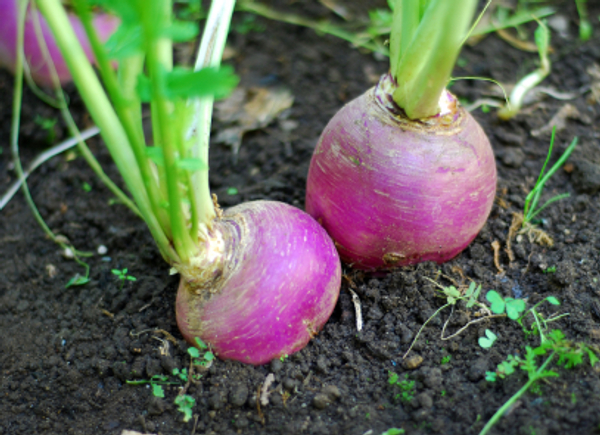 If you are looking for a vegetable which contains lot of vitamin C, then I must tell you that turnips are the best choice. It is nice to know that growing turnip in your own backyard garden is really very easy. The turnips can be eaten as nutritious cooked greens or can be mixed with other garden greens in salads.
Turnips are considered a cool weather vegetable crop as they grow in the fall, winter and spring in the South. Here are some of the easy and simple tips on how to grow turnips.
Steps in growing turnips:
Soil preparation:
Turnips require well-drained soil which is high in organic matter. But make sure that soil does not contain much nitrogen as too much nitrogen causes the plant to produce leaves and stalk rather than a good size root.
Sowing the seeds:
You can sow the seeds one to two inches part in single or wide rows.  When the seedlings are large enough, you can thin to 3-4 inches apart.
Watering:
Water is very essential for keeping the soil moist. Always water the soil before it dries out. This will promote the fast growth. If the growth is slow, the roots become strong flavored, woody, and plant will send up a seed stalk.
The best time to harvest the turnips when they reach 2- 4 inches in diameter. You can pull the entire plant from the ground. Always try to harvest the turnips before they become pithy and bitter. You can easily pull them when the soil is moist.

Storage:
After harvesting the turnips, you can peel and trim tender turnips. Dice and blanch them for three minutes. Drain the turnips and keep them on a tray in a single layer. Freeze the layered turnips for thirty minutes.
You can pack the turnips into plastic bag and do not forget to seal the bag. The packed turnips can be frozen for up to six months.
Thus, growing turnips as well as maintaining them are relatively easy. Keep them well watered and do your best to avoid getting their greens wet in the process.
Image credits: gardening.sheknows.com,  howtogrowturnips.blogspot.com 
Growing Turnip