Growing Broccoli Rabe

24 Jun 2011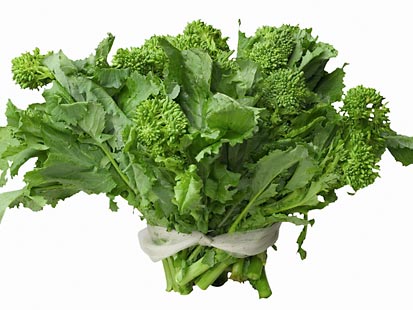 Broccoli rabe, also called as rabe or rapini, is a green leafy vegetable which is very easy to grow. Learn here the few simple tips on growing broccoli rabe.

 
About Broccoli Rabe

 
Broccoli rabe is a very popular vegetable of Southern Italy which is known for its slightly bitter taste. Here is a secret - broccoli rabe can taste less bitter if grown in cool weather. The best soil pH for growing rabe is 6.5 to 7.5 pH and the soil temperature should be between 60-65 degrees. There are two ways of growing broccoli rabe – either from seeds or transplant.

 
Growing broccoli rabe from seeds:

 
• You should sow the seeds indoors at least six-eight weeks before last expected frost date.

 
• It will take around six days for the seeds to germinate. Maintain the soil temperature at 75 degrees.

 
• You can either sow seed directly in late spring or early summer for harvesting a fall crop.

 
Growing broccoli rabe transplants:

 
• Transplant when the seedlings are around three inches tall.

 
• Keep the plants one inch deeper than they were grown inside the pots.

 
• You need to space the plants in 16" beds in a staggered pattern. Make sure to keep at least one feet spacing between rows.

 
Fertilizing broccoli rabe:

 
You need to fertilize the plant every few weeks with organic fertilizers such as fish emulsion.

 
Watering is also very important. Make sure to water the plants regularly but do not make the soil soggy.

 
Broccoli rabe can be harvested when the stalks are 4 inches to 8 inches high and as thin as spring asparagus. Try to harvest flower buds before they open and when heads are around 1 inch to 1 ½ inches in diameter.

 
Important tip:

You can easily serve broccoli rabe to your guest. You just need to sauté it with olive oil, garlic and red pepper flakes. It makes for a really yummy dish!!

 
Now you know that growing broccoli rabe is definitely worth it as this vegetable holds the place of pride in your vegetable garden as well as the dinner table.
Image credit: http://www.linda-cardillo.blogspot.com/  & http://www.floridavegetablegarden.com/
Growing Broccoli Rabe