How To Defrost Shrimp

7 Jun 2011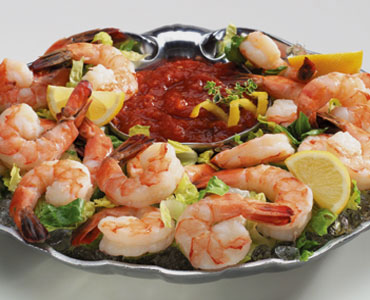 How to defrost shrimp learning is obviously an interesting skill. Defrosting shrimp is not as simple as general defrosting method. As shrimp is delicate seafood, it needs proper defrosting before you use it cooking. Learning the proper skill of defrosting will help to use this tasty seafood with all its health benefits otherwise it may harm your digestive system. Read on further how to defrost shrimp at the best simple way.
Articles required for defrosting shrimp
Ingredients for defrosting shrimp are pretty simple. You will require
Colander
A pan, which can fit the base of colander already selected
Quality plastic wrap or aluminum foils
Easy steps narrating how to defrost shrimp
Take out the shrimp out of the freezer and place them on the colander.
The colander should be wrapped with aluminum foil or with the plastic wrap.
Most carefully you have to place the colander in to a narrow pan where the dripping water from the frozen shrimp will be collected.
[Instead of using a colander if the shrimps are left inside a bowl for simple thawing, shrimp will re absorbed the dripping water in its body and due to this absorption, the taste and the tenderness of shrimp may abruptly deteriorated].
The shrimps in the colander should be placed inside the freezer for next 12 hours. After the stipulated time, bring out the shrimp, and give them a quick rinse under lukewarm tap water.
Now the shrimps are completely defrosted and you can use them for cooking or to use them in food as frozen as recipe demands.
Things you should remember while defrosting shrimp
In case you are hurry, place the shrimps inside a plastic bag; the plastic bag should have no leak and place the bag in the cold water. 
You must keep the water changing in every half an hour, until the whole quantity is defrosted.
You can allow cold or normal water to run on the bags, it will initiate quick defrosting.
Shrimps should never be left in room temperature fro defrosting because the shrimps may get contaminated by air borne bacteria causing acute food poisoning for the consumers.
Never defrost any type of shrimp or lobster at room temperature and it is best not to defrost them in the microwave either. It is better tp defrost shrimp either in the refrigerator or in ice cold water. Do not defrost in a warm place or microwave.
Now when you have learned how to defrost shrimp you can enjoy this tasty sea food at anytime for making favorite shrimp recipes. For delicious shrimp recipe you may visit ifood.tv recipe section.
Image Credit: ifood.tv 
How To Defrost Shrimp