Reheat noodles

23 May 2011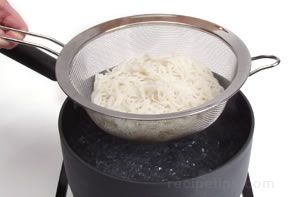 Noodles are one of the most loved items and we often cook them in bulk and have leftover noodles too. How to reheat noodles, so that you get them in perfect shape, soft and fresh, which taste just as original? I have always found reheating leftover noodles to be a complete treat – they make amazing hot lunch and dinner. Here is an easy way to reheat noodles, so that when you plan to cook these, well in advance and decide to serve them completely hot, you do not face any problem.
Reheating Noodles In Cooking Pot
Noodles are best reheated when a cooking pot is used. Here are some easy ways:
Start by boiling water in the cooking pot.
Pour unprepared, but cooked noodles in the pot and mix them in the boiling water for just a minute.
Drain the excess water and dry the noodles.
Using A Microwave Oven To Reheat Noodles
This is one of the most preferred ways to reheat cooked noodles. Here are the steps:
You will need a microwave safe bowl where you can put all the noodles.
Put this bowl inside your microwave for just a minute, if the quantity is less. If you have a large quantity of noodles to reheat, it might take a little more time. In such a case, it is best to check the temperature after a minute and then if it is not of the desired level, it is best to put it back into the microwave and reheat for some more time.
Keep checking in between frequently or else your noodles might just get burnt.
 More tips on reheating noodles
You should never try to reheat a large quantity of noodles together, which can make it messy and sticky too, if not heated properly.
If you are reheating noodles on your stove top, ensure that the flame is low. Never turn on the flame too high, as it shall burn or heat the noodles quickly and things might get out of control.
If you plan to cook noodles in advance and you are aware that you are going to reheat it in future, make sure you do not overcook the noodles, since reheating them will soften and cook them further. If they are already overcooked, reheating might just make them smudgy and your noodles will stick to one another, which you will surely not like.
If you are aware of any other way to reheat noodles, do let us know through your feedbacks and comments.
Image credits: recipetips.com 
Reheat Noodles