Reheat rice

21 May 2011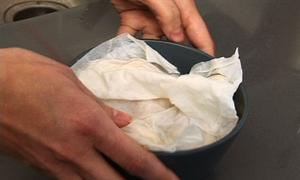 If you know the right way to reheat rice, many of your everyday problems related to reheating  will be solved. We often have leftover rice after our everyday meals and we need to reheat it, so that it is not wasted! There are many different ways of reheating rice and you can pick anyone way of these, depending on your convenience. So, here are some easy ways to reheat rice.
Reheating rice in the microwave:
This is truly one of the quickest ways to reheat anything.
Just cover the rice using a wet paper towel and reheat it for just a minute. The reheating time also depends on the quantity of rice you have, and you will be able to estimate the time with experience. If you are reheating rice for the first time, then one minute is enough. Check it once and if it is necessary, put it back into the microwave.
If you find that your wet paper towel has dried out when you reheat rice, you should remoisten it, before you heat it again.
Another method to reheat rice in microwave is by sprinkling a little bit of water over the rice and then covering it with a dinner plate while reheating. This helps to reheat the rice.
Reheating rice with steam:
When you are reheating rice, it makes it fluffy and very moist, which makes it quite similar to fresh rice. If you can do it well, no one will be able to actually make out, that you have reheated the rice.
A rice steamer can be used to reheat rice easily.
If you do not have a rice steamer, you can put the rice in a colander and then place this colander on a pot of boiling water. The rice shall get heated slowly.
Remember to keep stirring the rice often, so that its lower grains do not burn.
Reheating Rice Dishes:
Reheating any dish which has rice as an ingredient is considered to be easier that reheating plain rice. If you choose to reheat rice dishes in the microwave, you can use a wet towel, just as mentioned earlier.
If you choose to reheat rice dish on your stove, you can add a little bit of broth or water which shall help to keep the dish moist while it gets heated. This prevents the dish from burning out.
Now, when you will have leftover rice, I hope there shall be no more concerns on how to reheat rice!
Image credits: chowhound.chow.com, xoxoxocris.blogspot.com
Reheat Rice