Three Great Varieties of Cabbage Soup
22 Apr 2011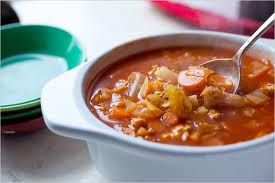 My husband asked me today to make him some cabbage soup. He absolutely loves this when he comes home from a cold winter day of four wheeling.These are famous cabbage soup recipes that you can try at home.These are great soups if you want to detoxify your body naturally.

You can find all of these great wonderful fresh ingredients right here in town either at Baxtrom's or Farmboy....Metro has a great selection as well.These stores all have great organic produce for you to choose from,it is so good for your body, mind and soul. Your body will thank you for it and just knowing that you are eating the best that you can eat will help you maintain a healthy lifestyle.
There are a number of benefits when you eat cabbage soup.
Here are some of them:
- Weight loss

- Better vitamin intake

- Better digestion

- Stronger resistance to common ailments

- Younger skin
Whatever variety you choose, cabbage soup will do wonders for your body. One doesn't need to be a cooking expert to prepare this. Here are some exciting recipes to give you an extra hand.
1. Original Cabbage Soup
Ingredients
- 1 head cabbage

- 6 medium onions

- 6 green onions

- 6 carrots

- 2 bell peppers

- 3 large tomatoes

- 5 stalks celery

- 1 cup uncooked wild mix/brown rice (Baxtrom's or Farm Boy)

- Salt and freshly-ground black pepper
Preparation
Slice the vegetables in small pieces.Stir fry the vegetables in coconut oil (1 tsp.).Once softened, add to a pot 1/2 filled with filtered water and bring to a boil. Let the mix simmer covered for around 20 minutes until the vegetables are soft enough. You can add the rice while the soup is simmering. Add salt and pepper to taste.
2.The Military Diet Cabbage Soup
Ingredients
- 1 large head of cabbage

- 1 large bunch of celery

- 2 bunches of green onion

- 1 large can of organic diced tomatoes

- 2 boxes of organic chicken broth

- 3 large bell peppers

- Salt and pepper to taste
Preparation
Military way is short and simple. Chop all the vegetables and stir fry in coconut oil (1 tsp.). Once the vegetables are softened add to a large pot of organic chicken broth. Add the diced tomatoes, bring the mixture to a boil then simmer covered for 30 minutes. Serve. 
3. Miracle Cabbage Soup
- 1 large dark green cabbage

- 1 red, 1 green, 1 yellow pepper

- 1 head of celery

- 2 carrots

- 2 lbs of mushroom

- 3 big leeks

- Small bunch of organic spinach

- 3 onions

- 2 boxes organic chicken broth
Preparation
Chop all of the ingredients.Stir fry in coconut oil (1 tsp.). Add to broth, upon boiling, decrease heat and let the soup simmer covered for another 30 minutes.
These are just a few samples of how you can prepare very healthy cabbage soup.The smell in your house will be absolutely delicious....especially tasty after a nice winter outing.
Happy Family Day 2011....don't forget to hug and kiss your loved ones...that is the best vitamin for your body and soul....the LOVE vitamin!!!!
Enjoy!!!
Sylvie Thibert
Click Here to go to The Health Nut Website for more blogs
Three Great Varieties Of Cabbage Soup