How To Grow Organic Sprouts At Home
28 Mar 2011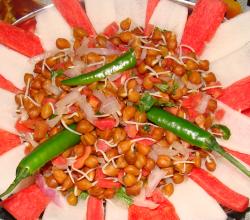 Grow organic sprouts at home and enjoy a better health. To eat healthy most people prefer to eat fresh food with lots of salads, and juices.  When you feel like preapring a completely different salad but a vegetarian salad with ample protein then you can use sprout.  Sprouts are available in the market but you can grow organic sprouts at home with utmost ease.  Sprouts are soaked seeds or lentils that are drained and kept under controlled humidity and temperature.  Once that is done the sprouts germinate and have an appearance similar to a tiny plant growing out of the soaked seed or lentil.
For growing organic sprouts you need maximum two or three days. And they require minimum care, so another reason to grow fresh organic sprouts at home.  Check out how to grow organic sprouts.
The lentils or seeds should be devoid of insects, chemicals, and stones.  
Thoroughly wash the lentils in a bowl and put them in a bowl with water.  Water should be twice the amount of the quantity of the lentils.  
Soak  that for about three hours and if the lentils are beans like chickpeas or red beans then soak them overnight.  Drain the lentils from the water.  By now they must have puffed up slightly and the shell of the lentil will easily come off, but we need to keep the lentils as they are.
Now put the drained lentils in a glass jar and close the jar.  Keep it in a cool area but not in the fridge.  Strictly keep it away from direct sunlight.  The humidity in the jar will initiate the germination.  If you keep the lentils in the jar for more than 12 hours then you need to wash them once 12 hours are complete.  Or else the sprouts will decay.  Keep the jar at an angle of 60 degree with bottoms up to allow excess water to drain.
The sprouts can also be prepared in a muslin cloth.  Place the drained lentils in the muslin cloth and cover with another muslin cloth. Make sure that the muslin cloth does not remain dry at any point otherwise the sprouts will be ruined.  Keep sprinkling some water on the muslin cloth or kepe it on a wet sponge which can be in a shallow dish filled with water. 
So grow organic sprouts at home and relish healthier food with qualms!
Image Credit: ifood.tv 
How To Grow Organic Sprouts At Home