What Are The Alternate Uses For Pancake Batter

17 Mar 2011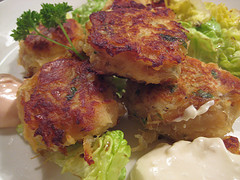 What are the alternate uses of pancake batter is a question that used to haunt my mind whenever I had leftover pancake batter in my pantry. Over the years I discovered the various alternate uses of pancake batter and realize that it's a versatile ingredient to have in the kitchen.  
Pancake batter is made up of just four ingredients flour, egg, milk and salt. Thus, one can use pancake batter alternately for making sweet as well as savory dish by adding few extra ingredients.
Use Pancake Batter For Baking

Alternative pancake batter uses are many but the best is baking breads and muffins because the ingredients are same. Add some healthy berries and the outcome will be amazing.
Pancake batter can be converted to delicious muffins by adding blueberries and baking them in muffin moulds.
Bread
Use pancake batter for making cranberry bread, add cranberries and flour to make dough and bake until the bread is brown.
Deep Frying Using Pancake Batter

Another alternate uses of pancake batter is to use it for making savory dishes by adding extra salt and spices.
Fish fry or chips
Add salt and beer to pancake batter and use for deep frying fish.
Make savory vegetable fritters with slices of raw banana, cauliflower, zucchini, potatoes, boiled eggs, sweet potatoes, green chilli pepper and slices of onion. Add salt, chilli powder and any of your favourite spice like cumin or spice mix to the batter.
Onion rings
Another great alternative usage of pancake batter is to make onion rings. When there is just a little pancake batter that is not enough for making any of the above dishes, make onion rings.
Cheese fritters
Cheese fritters is something which everyone likes so using pancake batter for making an evening snack is best at times.
Oreos in pancake batter
The best alternative use of pancake batter is to dip Oreos in pancake batter and deep fry them.
Desserts With Pancake Batter

Desserts require basic ingredients like flour, egg and milk, so it is easier to use pancake batter for making some quick and easy desserts.
Fritters
Use leftover pancake batter for making fritter balls or fruit fritters. Use your favourite fruit to make fritters and sprinkle powdered sugar over it.
Crepes
The easiest way of using pancake batter is to add a little cinnamon and nutmeg powder and make crispy crepes. Take half a ladle full of pancake batter and spread it thinly on a frying pan.
Other Dishes Using Pancake Batter

Apart from making desserts and deep fried foods, pancake batter uses includes making other dishes.
Dumplings
Pancake dumplings in stews and soups are superb. They make fluffy and soft dumplings that go well with the warm soups for winter nights.
Now as you had learnt a lot about the alternate uses of pancake batter, you can realize how handy it is to keep pancake batter in your pantry. You can make just about anything in a short time and enjoy a new dish almost every day, because the possibilities are endless.
Image Courtesy: flickr.com 
What Are The Alternate Uses For Pancake Batter