How To Prepare Guarana Seeds For Use
11 Mar 2011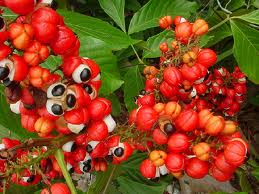 Do you know how to prepare guarana seeds? If you are looking for an alternative for caffeine, you would have heard of guarana. Preparing guarana seeds is almost the same as grinding coffee seeds for your coffee powder. There is no big difference there. But before you embark on that task, please read up about guarana seeds in general. And we hope you know why you want to use guarana, when there is another better product – coffee, of course.
Guarine is the stimulating chemical in guarana, which is nothing but caffeine. Guarana is replete with caffeine and gives you all the effects that coffee will give you; delaying your sleep, impairing your appetite to postpone hunger during a busy meeting or another daunting task and increasing your heart rate and blood pressure. It's possible to get a caffeine overdose with guarana, which could also prove to be fatal. So don't overdo it when you are at it. But guarana's traditional usages include treatments for headache, low libido and incontinence.
The guarana plant produces short flowers and its fruits are of coffee bean's size. Two to three seeds can be found in each fruit they are ripe. Although they are native to Amazon you will guarana seeds are available in stores all over.
Here is how to prepare them:
Soak the guarana seeds in water for about a couple of hours and remove their skin. Now dry it up in the sun for about two days.
Dry roast them if you have a good pan. Or simply, you can bake them in high heat for about 10 minutes. Don't overdo the baking otherwise you will end up with carbon in place of crips guarana seeds.
Now let it cool and when it reaches room temperature, grind it using your food processor. Using your mortar and pestle is also an option but it is time consuming and laborious if you are dealing with larger quantities of seeds.
Your guarana seeds are ready for consumption. Make sure that you store the powder in an airtight container away from sunlight so it stays fresh for months together.
Image Credit: surgerybrasil.com 
How To Prepare Guarana Seeds For Use