How To Make Rose Hips Into Syrup?
11 Mar 2011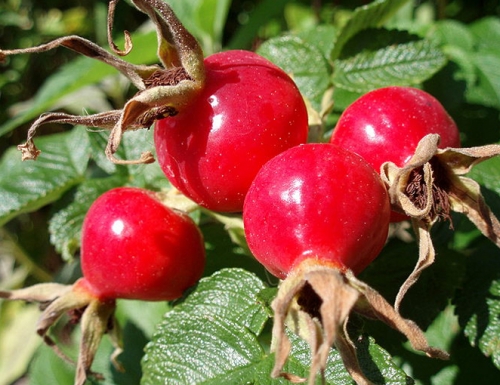 How make rose hips into syrup, a refreshing drink. The rose hips can used for making refreshing drinks called sarbath. Check out these steps. 
Some of the things that you will require to making rose hips syrup will include, rose hips, garden knife, paper towels, saucepan, spoon, mesh fruit strainer, honey and glass jar.
Rose hips are usually in orange to red colors that their size and shape vary from round and red or red to orange color with the size being dependant on the type and variety of the rose flower, which ranges from the size of the marble to that of egg.
The process of making the rose hips turning into a tasty syrup will include the choosing the ripened rose hips and cutting them of the cane with care and washing them well to get rid off all the fertilizers and the pesticides and chemicals used in the garden. Pat them dry gently with towel or tissue paper, and place the hips in a saucepan allowing them to melt to nothing on low heat. Later bring the water from the fruits as it lets to a single boil, which when you need to lower the heat further by going down to simmer for 15 minutes, until the hips are soft to cook. Allow this mixture to cool.
Once done, remove the tenderized hips in the saucepan and drain the fluid using a metal mesh strainer, and using a spoon press out the remaining fluids gently out with the back of the spoon. This way you are going to take care of not to break the hips open to release the seeds and hairs inside the fruits, as they can become a pain in the neck to be removed. If not use a wet musleen clothe covered on the metal mesh strainer to remove the excess fluid. The seeds and the hairs has been identified as allergic irritants to the stomach lining and the mouth. The best way to remove any seeds that come by mistake is to scoop them out using the spoon, but is not possible for the hairs, straining this musleen clothe is also an alternative option.
Add honey, in the ratio of one is two parts, that is, one part of honey to two parts of this strained hips fluid, and stir well to blend the honey into the fluid to make the syrup. Pour this liquid into the refrigerator and this will thicken the syrup. While serving, serve them in one parts to four parts of water, and add some ice cubes for a refreshing drink with a squeeze of lemon.
How To Make Rose Hips Into Syrup?