How To Make Jam Labels At Home

9 Mar 2011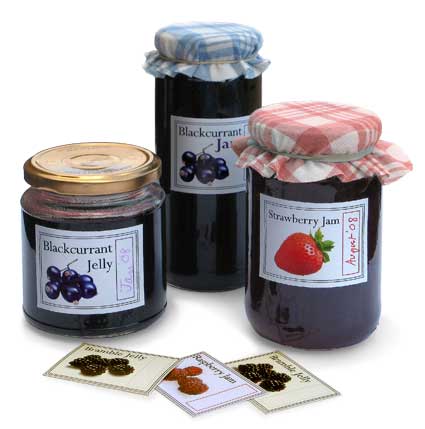 Do you want to make labels of your own to your jam bottle; here are few tips on how to make jam labels at home.
Do you know by using your creativity, a computer and a printer, you can make jam labels. If you don't want to waste the time it is best to download nicely designed templates from a number of websites.
Making jam labels is not a difficult task, you can create the jam labels by using online tools like word or publisher.
Publisher is considered as more design-oriented so this program is more user-friendly compared to Word. If you have working experience of graphics in Word successfully, you won't face any difficulty modifying Word label templates. If you are a beginner, Publisher templates will be the best ones to be used.
Follow below steps to make jam labels using publisher catalog;
First step in making jam labels using Publisher Catalog is selecting Labels and then Jar/Product. Click Start Wizard, skip steps to fill in information and click Finish.
Next step is click on the items which you don't want on the label and cut the icon. In this template, delete the business name and date boxes, the line in the middle of the white box and the logo.
Now using the label wizard dialog box, select the color schemes. Scroll through the list to select your favorite scheme.
After selecting the scheme add text by clicking the label title. Emphasize the text and select a decorative or script font from the drop-down menu of font.
Now, select the picture and clip art from insert menu. Type a key word like "strawberry" in the insert clip art dialog box. Scroll through for the image you'd like to use, select the image and click to insert clip.
You can resize the image with the different tools available, once the image is in the desired size; you have the option of rotating it by clicking the custom rotate icon from the format toolbar.
Once the above step is done you can print the label on 3.33 x 4 inch shipping labels. You can get six labels per sheet.
For smaller jars of jam you can use a template for 2 x 4 inch labels, which can produce 10 labels per sheet.
Another method of making jam labels is by downloading, you can simply type the key word as "jar labels" in the search box of your browser and you can get some free easy to use labels for your jars.
So, if you want to make jam labels at home follow above steps and create favorite labels of your own.
Image Courtesy: dadcando.com
How To Make Jam Labels At Home