Mouthwatering Recipes To Make With Cauliflower
2 Feb 2011
Cauliflower recipes are not exactly the ones that top the charts on pretty much any food listing nowadays. Mouthwatering cauliflower recipes are hard to come by. Be it recipe blogs, restaurant menus or sadly even grocery lists. Why sadly? Because these bright little white flowers which are a vegetable has taken a back seat and over taken by the hip and happening broccoli. This of course doesn't mean that the cauliflower has lesser nutrition to offer. Cauliflower is a rich source of dietary fiber, vitamin C and minerals such as potassium and manganese.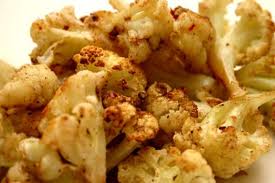 So what can one make with cauliflower? The vegetable is quite versatile but still delicate. While blanching and boiling are the first cooking methods that pop into one's mind, it is precisely these methods that remind one of cauliflower served in the school canteen; nothing to get nostalgic about. But cauliflower can be roasted as well.  The following recipe can be adapted and varied depending on your personal taste, hence the various options for ingredients.
Toss small cauliflower florets in extra virgin olive oil and some dry herbs. Do not use mixed herbs, they might over power the subtle flavor of the cauliflower. Stick to one or two. Parsley and marjoram are good options. You may later experiment with stronger herbs if you like. Season the oil covered cauliflower with salt and pepper, spread on a high rimmed baking sheet and bake at 450 degrees F for about 15-20 mins. Take the baking dish out, toss with a sour flavor of your choice. Options are white vinegar, balsamic vinegar, lemon juice, clear tamarind extract. Sprinkle on some shredded parmesan and return to the oven for another 5 mins until the cheese is melted. This goes well as a side for a spicy fish steak or even as one of the ingredients on a sizzler.
Apart from this, cauliflower also makes a great addition to a casserole you might make for a potluck. Bell peppers of various colors, cauliflower florets and onions can be the base vegetable combination. Saute these in a pan in some butter. When tender ,add in the flour and milk mixture, salt and pepper and other spices if using and half of the cheese. Once the cheese is melted spoon out the mixture into a prepared casserole dish, top with the remaining cheese and bread crumbs and bake for about 25-30 mins at 350 degree F until the cheese is melted and brown.
Image Credit: hubpages.com
Mouthwatering Recipes To Make With Cauliflower